Warrior Best in Slot (BiS) Gear
by Expansion (Classic – Lost Dungeons of Norrath)


Best in Slot gear is an opinion and can also change on circumstance. Use this guide as a tool to help yourself decide on how you want to gear. Do what works for you. I created this to spread awareness on what top tier items look like for each expansion.

I have added a Magelo screenshot wearing the gear I picked so you can have an idea of what type of stats each era offers. This is an estimate. Many of the characters I used to test were made on Firiona Vie. Here the characters seem to have a bit higher HP than a TLP character that's in an older expansion.  Other stats seem to reflect accurately. This is just something I noticed while creating the guides but have not tested it fully.
Additionally, I have created a YouTube Account where I briefly discuss my choices for best in slot for each expansion. Please Subscribe to the channel if you're interested in this sort of thing. I would like to expand this website into video content (where appropiate) if I see people are enjoying it.

Classic
Classic Warrior TLP BiS Discussion Video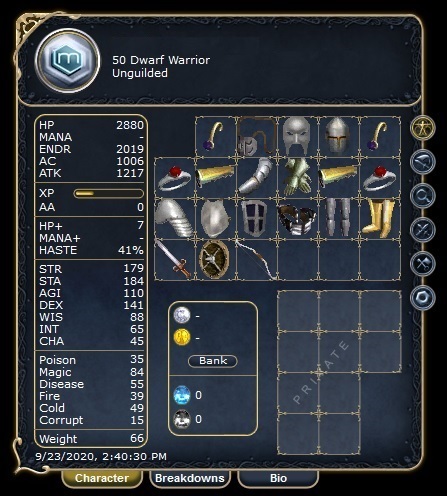 Primary
Dagas
Plane of Sky – Warrior Test of Smash (Quest)

Secondary
Blood Fire
Plane of Fear – Fright/Dread/Terror
Shield
Bladestopper
Nagafen's Lair – Lord Nagafen

Ears
Black Sapphire Electrum Earring
Jewelcrafting
Black Sapphire Electrum Earring
Jewelcrafting
Fingers
Platinum Fire Wedding Ring
Jewelcrafting
Platinum Fire Wedding Ring
Jewelcrafting
Head
Skull-Shaped Barbute
Lower Guk – the ghoul lord
Indicolite Helm
Plane of Hate – a kiraikuei
Face
Fine Plate Visor
Blacksmithing

Chest
Indicolite Breastplate
Plane of Hate – a kiraikuei
Arms
Indicolite Vambraces
Plane of Hate – a kiraikuei
Waist
Belt of the Four Winds
Plane of Sky – Warrior Test of Think (Quest)

Wrists
Indicolite Bracers
Plane of Hate – a kiraikuei
Indicolite Bracers
Plane of Hate – a kiraikuei
Legs
Indicolite Greaves
Plane of Hate – a kiraikuei
Hands
Indicolite Gauntlets
Plane of Hate – a kiraikuei / Plane of Fear – phoboplasm

Feet
Indicolite Boots
Plane of Hate – a kiraikuei
Shoulders
Pauldrons of the Blue Sky
Plane of Sky – Warrior test of Sky (Quest)
Shawl of Protection
Plane of Fear – a dracoliche

Back
Shield of the Immaculate
Plane of Hate – Lore of Ire

Neck
Runed Wind Amulet
Plane of Sky – Warrior Test of Strength (Quest)

Ranged
Bow of the Underfoot
The Hole – a massive construct / a rock golem

Kunark
Kunark Warrior TLP BiS Discussion Video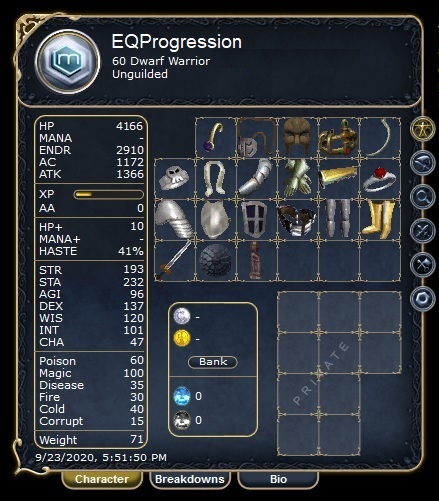 Primary
Blade of Strategy
Warrior 1.0 Epic

Secondary
Ivyshae Blade
Firiona Vie Quest – Ivyshae Family Blade
Blade of Tactics
Warrior 1.0 Epic
2-Hander
Jagged Blade of War
Warrior 1.0 Epic
Shield
Bladestopper
Nagafen's Lair – Lord Nagafen
Shield of Elders
Veehan's Peak – Phara Dar

Ears
Twisted Bone Earring
Part of Necromancer 1.0 Epic
Pearly Sarnak Bauble
Chardok – Arch Inspector Nibi`zi
Fingers
Regal Band of Bathezid
Chardok Faction Quest
Overseer's Signet
Chardok – Overseer Dal`guur
Platinum Fire Wedding Ring
Jewelcrafting
Head
Crown of Rile
Veeshan's Peak – Phara Dar
Cobalt Helm
Sebilis – Reets/Juggernauts

Face
Tribal War Mask
Chardok – Di'Zok trash mobs and Overseer Dal`guur

Chest
Cobalt Breastplate
Sebilis – Trakanon
Arms
Cobalt Vambraces
Sebilis – froglok zol knight
Spirit Wracked Cord
Chardok Faction Quest or in Chardok off Grand Lorekeeper Kino Shai`din
Waist
Belt of the Four Winds
Plane of Sky – Warrior Test of Think (Quest)

Wrists
Spirit Wracked Cord
Chardok Faction Quest or in Chardok off Grand Lorekeeper Kino Shai`din
Cobalt Bracer
Sebilis  – myconid's (mushrooms)
Legs
Cobalt Greaves
Karnor's Castle – Venril Sathir

Hands
Indicolite Gauntlets
Plane of Hate – a kiraikuei / Plane of Fear – phoboplasm

Feet
Cobalt Boots
Karnor's Castle – caller of Sathir

Shoulders
Chokidai Hide Pauldrons
Chardok – Deathfang
Pauldrons of the Blue Sky
Plane of Sky – Warrior test of Sky (Quest)
Spirit Wracked Cord
Chardok Faction Quest or in Chardok off Grand Lorekeeper Kino Shai`din
Shawl of Protection
Plane of Fear – a dracoliche

Back
Hierophant's Cloak
Sebilis – Hierophant Prime Grekal
Shield of the Immaculate
Plane of Hate – Lore of Ire

Neck
Runed Wind Amulet
Plane of Sky – Warrior Test of Strength (Quest)
Imperial Wardog Collar
Chardok – Deathfang

Ranged
Idol of the Thorned
Frontier Mountians – Chief RokGus
 
Velious
Velious Warrior TLP BiS Discussion Video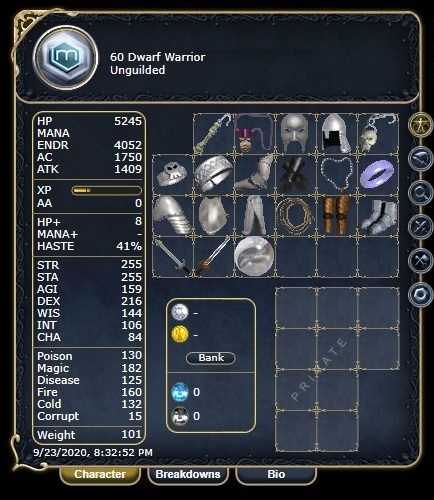 Primary
Blade of Carnage
Kael – Avatar of War

Secondary
Sceptre of Destruction
Sleeper's Tomb (before Kerafyrm release) – Hraashna the Warder
Blade of Strategy
Warrior 1.0 Epic
2-Hander
Palladius' Axe of Slaughter
Temple of Veeshan – Vulak'Aerr
Shield
Buckler of Insight
Temple of Veeshan – Test of the Emerald Tear (Quest)

Ears
Vyrinn's Earring of Insanity
Temple of Veeshan – Vulak'Aerr
Earring of the Living Flame
Temple of Veeshan – Test of the Living Flame (Quest)
Fingers
Ring of Destruction
Kael – Avatar of War
Crystasia's Crystal Ring
Temple of Veeshan – Vulak'Aerr

Head
Helmet of Rallos Zek
Kael – Avatar of War

Face
Akkirus' Mask of Warfare
Temple of Veeshan – Vulak'Aerr
Ssra's Bloodstone Eyepatch
Temple of Veeshan – Vulak'Aerr

Chest
Breastplate of Eradication
Kael – The Statue of Rallos Zek

Arms
Onyx Chain Sleeves
Temple of Veeshan – Eashen of the Sky
Waist
Feeliux's Cord of Velocity
Temple of Veeshan – Vulak'Aerr
Wrists
Silver Braclet of Speed
Temple of Veeshan – Test of the Platinum Tear (Quest)
Silver Charm of Tranquility
Temple of Veeshan – Test of the Ruby Tear (Quest)
Legs
Ancient Wurm Hide Greaves
Temple of Veeshan – Dagarn the Destroyer

Hands
Do`Vassir's Gauntlets of Might
Temple of Veeshan – Vulak'Aerr

Feet
Boots of the Storm
Kael – King Tormax

Shoulders
Pauldrons of the Deep Flame
Temple of Veeshan – Test of Protection (Quest)

Back
Cloak of Thorns
Temple of Veeshan – Lady Nevederia

Neck
Valtron's Necklace of Wonder
Temple of Veeshan – Vulak'Aerr
Silver Charm of Tranquility
Temple of Veeshan – Test of the Ruby Tear (Quest)
Ranged
Orb of the Deep Sea
Temple of Veeshan – Lord Koi`Doken

Luclin
Luclin Warrior TLP BiS Discussion Video
Primary
Bloodfrenzy
Ssraeshza Temple – Vyzh`dra the Cursed
Secondary
Blasphemous Blade of the Exiled
Ssraeshza Temple – Vyzh`dra the Exiled
Hategiver
Ssraeshza Temple – Xerkizh The Creator
Blade of Carnage
Kael – Avatar of War
2-Hander
Bloodied Berserker's Blade
Sanctus Seru – Lord Inquisitor Seru
Shield
Bone Chill Shield
Vex Thal – Diabo Xi Xin
Ears
Sigil Earring of Voracity
Katta Castellum – Quest
Earring of Eradication
Vex Thal -Aten Ha Ra
Fingers
Ring of Destruction
Kael – Avatar of War
Azaliil's Ring of Analogies
Ssraeshza Temple – Emperor Ssraeshza

Head
Helmet of Shadow
Vex Thal -Diabo Xi Va
Helmet of Rallos Zek
Kael – Avatar of War

Face
Crimson Runed Mask
Vex Thal – Aten Ha Ra

Chest
Great Shadow Platemail
Vex Thal – Aten Ha Ra
Heavy Yttrium Chestplate
Sanctus Seru – Lord Inquisitor Seru

Arms
Umbral Vambraces
Vex Thal – Diabo Xi Va Temariel
Waist
Belt of Mastery
Vex Thal – Kaas Thox Xi Aten Ha Ra "Dat"
Wrists
Seru's Torque
Sanctus Seru – Lord Inquisitor Seru
Silver Charm of Tranquility
Temple of Veeshan – Test of the Ruby Tear (Quest)
Silver Bracelet of Speed
Temple of Veeshan – Test of the Platinum Tear (Quest)

Legs
Leggings of Fiery Might
Vex Thal – Diabo Xi Va or Thall Va Kelun

Hands
Gloves of the Crimson Sigil
Vex Thal – Aten Ha Ra

Feet
Grimling Plate Boots
Acrylia Caverns – a spiritual arcanist

Shoulders
Pauldrons of Seething Darkness
Vex Thal – Va Xi Aten Ha Ra
Back
Loyalist Shield of Honor
Katta Castellum – Vampyre Troubles Quest

Neck
Talisman of Vah Kerrath
Vex Thal – Va Xi Aten Ha Ra (Quest)

Ranged
Orb of the Deep Sea
Temple of Veeshan – Lord Koi`Doken
Orb of Satisfaction
Vex Thal – Kaas Thox Xi Aten Ha Ra "Set"

Planes of Power
Planes of Power Warrior TLP BiS Discussion Video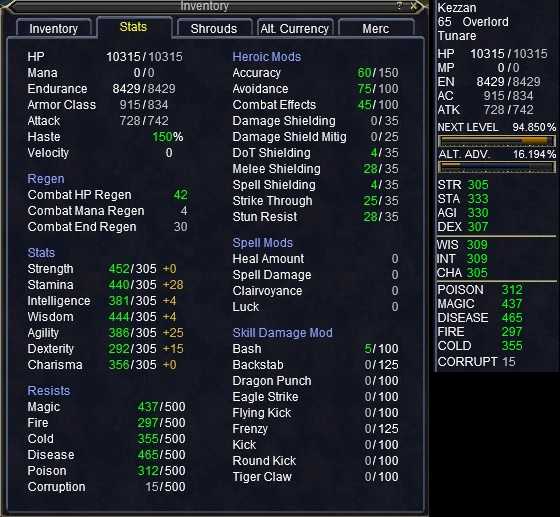 Primary
Darkblade of the Warlord
Plane of Time – Rallos Zek

Secondary
Bloodfrenzy
Ssraeshza Temple – Vyzh`dra the Cursed
Hammer of the Timeweaver
Plane of Time – Quarm
Edge of Eternity
Plane of Time – Saryrn

2-Hander
Vanazir, Dreamer's Despair
Plane of Time – Terris Thule
Blade of War
Plane of Tactics – Rallos Zek
Shield
Shield of Strife
Plane of Time – Rallos Zek

Ears
Earring of Xaoth Kor
Plane of Time – Phase 3 Golems
Silver Hoop of Speed
Plane of Time – Quarm
Fingers
Timestone Adorned Ring
Plane of Time – Cazic Thule
Band of Prismatic Focus
Plane of Time – Tallon Zek
Head
Helm of Flowing Time
Plane of Time – Vallon Zek

Face
Mask of Strategic Insight
Plane of Time – Phase 3 Golems

Chest
Raex's Chestplate of Destruction
Plane of Time – Rallos Zek / Quarm (drops as mold)

Arms
Armguards of the Brute
Plane of Time – Terris Thule

Waist
Cord of Temporal Weavings
Plane of Time – Quarm

Wrists
Bracer of Precision
Plane of Time – Tallon Zek
Earthen Bracer of Fortitude
Plane of Time – Quarm
Legs
Greaves of Furious Might
Plane of Time – Cazic Thule

Hands
Gloves of Airy Mists
Plane of Time – Innoruuk

Feet
Boots of Despair
Plane of Time – Bertoxxulous

Shoulders
Mantle of Deadly Precision
Plane of Time – Tallon Zek

Back
Platinum Cloak of War
Plane of Time – Rallos Zek
Shroud of Eternity
Plane of Time – Quarm

Neck
Necklace of Eternal Visions
Plane of Time – Innoruuk

Ranged
Symbol of the Planemasters
Plane of Time – Saryrn
Globe of Mystical Protection
Plane of Time – Vallon Zek

Charm
Intricate Wooden Figurine
Plane of Knowledge – Gram Dunnar (Quest NPC inside a building near the Soulbinder)
Lost Dungeons of Norrath
Lost Dungeons of Norrath Warrior TLP BiS Discussion Video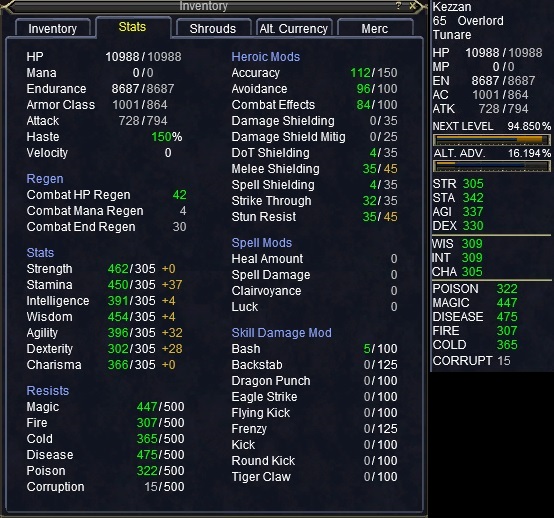 Primary
Radiant Marble Sphere of Ire
South Ro LDoN – 1150 Points (Aggro – Type 8)
Warden's Stone of Enhancement
South Ro – Prison Break Raid (Damage – Darkblade of the Warlord)

Secondary
Radiant Marble Sphere of Ire
South Ro LDoN – 1150 Points (Aggro – Type 8)
Marble Sphere of Ire
Everfrost LDoN – 1150 Points (Aggro – Type 4)
Enhanced Gem of the First Witness
South Ro – The Curse Reborn Raid (Damage – Edge of Eternity)
Ritana's Sandstone of Prowess
North Ro – Within the Compact Raid (Damage – Hammer of the Timeweaver)

2-Hander
Radiant Marble Sphere of Ire
South Ro LDoN – 1150 Points (Aggro – Type 8)
Bloodied Shard of Kel`Novar
Butcherblock – Struggles within the Progeny Raid (Damage – Vanazir)

Shield
Frosty Gem of Enhanced Protection
Everfrost – Frozen Nightmare Raid

Ears
Enchanted Jewel of Shielding
Everfrost – Folly of Miragul's Ambition Raid
Enchanted Orb of Defense
Butcherblock – Struggles within the Progeny Raid
Fingers
Ice Shards of Deadly Strikes
Everfrost – Folly of Miragul's Ambition Raid
Researcher's Exacting Ore
Commonlands – Hidden Vale of Deceit Raid
Head
Focus Shard of Enhanced Protection
South Ro – The Curse Reborn Raid

Face
Warden's Stone of Prowess
Commonlands – Prison Break Raid

Chest
Guardian's Stone of Enhanced Protection
Butcherblock – Struggles within the Progeny Raid

Arms
Scion's Shard of Death Chants
Butcherblock – Scion Lair of Fury Raid

Waist
Scion Stone of Disruption
Butcherblock – Struggles within the Progeny Raid
Wrists
Gauntlet Stone of Fortitude
Everfrost – Folly of Miragul's Ambition Raid
Slime Covered Stone of Life
South Ro – Ritualist of Hate Raid
Legs
Froststone of Health
Everfrost – Frozen Nightmare Raid

Hands
Slime-Soaked Jewel
South Ro – The Curse Reborn Raid

Feet
Experimental Gem of Enhanced Protection
Commonlands – Hidden Vale of Deceit Raid

Shoulders
Glowing Stone of Precision
South Ro – Ritualist of Hate Raid

Back
Jagged Froststone of Enchantments
Everfrost – Folly of Miragul's Ambition Raid

Neck
Focused Prism of Accuracy
South Ro – The Curse Reborn Raid

Ranged
Unala's Jewel of Life
North Ro – Within the Compact Raid

Charm
Wayfarers Brotherhood Emblem/Adventurer's Stone
Adventurer's Stone Quest – Pre-Requsisite to do LDoN