Alerynril the Loyal is a unique vendor in Plane of Knowledge that shows up during the House of Thule expansion release.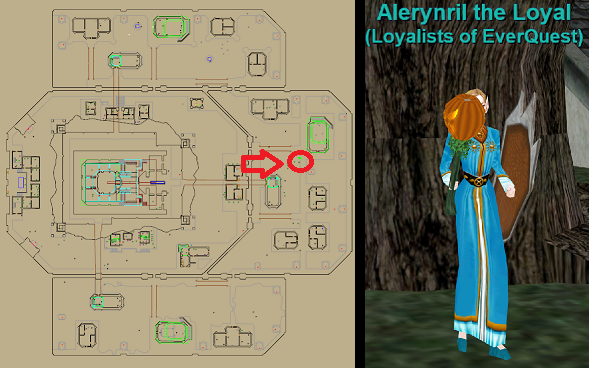 She uses a special currency called

Loyalty Tokens. These are accumulated over time at the rate of 120 per week on subscribed accounts. You can have a maximum of 

5760 Loyalty Tokens on subscribed accounts. They can be found in the "Alt. Currency" tab in your inventory window. Note that in the vendor window they are referred to as "Crowns" (this was its legacy name), but they are one and the same.



Loyalty Tokens may also accumulate on Silver accounts at a slower rate, but I did not verify this.

Below are the items she sells with a brief description of each item. Sorted by categories. Several items require that you have an active subscription to buy. I added hover pictures for items that require a visual.
Note: There is a second Loyalty vendor in Sunrise Hills (Pagus Nonad) that sells the same items.
Utility

Item

Cost

Description

Doll of Character

1296

Grants Account +1 Character Slot. 3 Max can be bought

Gold Ticket

960

Can be turned in at the Shadowhaven Casino for a legacy item reward

Forgotten Crypt Key

864

Speak to Tierna Morganna in PoKnowledge with this item in your




inventory to receive the task "Lair of the Risen". This is a fast level 85-90 1 group dungeon that will reward you with a selection of items that have roughly 1K HP/Mana. Final boss hits 12k+. 1 key per task.

Hero's Forge Suit Consolidator

781

Combine a Hero Forge set together into 1 item

Perfected Augmentation Distiller

432

Safely removes any augment. Such as all type 3s and purity augs. 1 time use.

Urthron's Ultimate Unattuner

432

Unattune any item. Consumed upon use.

Vicious Rabbit

216

Swarm Pet that adds some DPS. 5 min CD. Lasts 15 seconds.




I have seen it hit for 6k, but may hit higher. Has 4800 HP.

Crystallized Luck

250

Allows you to fuse Luck items together

Blinding Firework

216

Targeted AE Stun (6 sec) up to level 90 mobs. 5 charges. -300 Resist

Rune of Healing

216

AE Heal? Seems to be broken. Small Heal (100/tick?) over time. 5 min CD

Guild Hall Anchor Package

432

Guild Hall Anchor and Teleport Guild Anchor spell for Wizards and Druids

Primary Anchor Package

216

Primary Housing Anchor + Primary Transport Device +




Teleport Primary House Anchor spells for Wizards and Druids

Secondary Anchor Package

216

Secondary Housing Anchor + Secondary Transport Device +




Teleport Secondary House Anchor spells for Wizards and Druids

Confectionary Contract

108

Gingerbread Man Mercenary Contract

Token of Resurrection

86

Cast 96% Res on any player corpse. Sometimes fails.
Bags (Bag Icon changes every month)
Item
Cost
Description

Surefall Satchel

1728

16 slot 100% WR Bag




Available in January

Heart Shaped Box

1728

16 slot 100% WR Bag




Available in February

Brew Barrel Chest

1728

16 slot 100% WR Bag




Available in March

Jack in the Box

1728

16 slot 100% WR Bag




Available in April

Bag of Woven Flowers

1728

16 slot 100% WR Bag




Available in May

Picnic Basket

1728

16 slot 100% WR Bag




Available in June

Gnomish Fireworks Crate

1728

16 slot 100% WR Bag




Available in July

Bag of Living Lava

1728

16 slot 100% WR Bag




Available in August

Bag of Autumn Leaves

1728

16 slot 100% WR Bag




Available in September

Jack-O-Lantern Bag

1728

16 slot 100% WR Bag




Available in October

Cornucopia

1728

16 slot 100% WR Bag




Available in November

Santug's Claugg's Sack

1728

16 slot 100% WR Bag




Available in December
Consumable Teleport Potions
Item
Cost
Description
Philter of the Bonefield

43

Field of Bone Gate. 30 second cast. 1 charge

Philter of the Frostplains

43

Everfrost Gate. 30 second cast. 1 charge

Philter of the Swamp

43

Innothule Swamp Gate. 30 second cast. 1 charge

Philter of the Thicket

43

Shadeweaver's Thicket Gate. 30 second cast. 1 charge

Philter of the Twilight

43

Twilight Sea Gate. 30 second cast. 1 charge
Glyphs
Item
Cost
Description
Mythic Glyph of Arcane Secrets

216

Grants Associated AA (consumable)

Mythic Glyph of Dragon Scales

216

Grants Associated AA (consumable)

Mythic Glyph of Inspired Provocation

216

Grants Associated AA (consumable)

Mythic Glyph of Ultimate Power

216

Grants Associated AA (consumable)
Equipable Items
Item
Cost
Description

Sapphire Drop

864

NEC WIZ MAG ENC


Quiet Bone Loop

864

CLR PAL RNG SHD DRU BRD SHM NEC WIZ MAG ENC BST


Amethyst Drop

864

NEC WIZ MAG ENC

Crescent Hoop

864

PAL RNG SHD BRD BST


Loop of Pain

864

RNG MNK ROG BER


Orb of Servitude

864

NEC MAG BST


Star of Ril'at

864

WAR PAL SHD BRD


Symbol of Therin

864

WAR MNK ROG BER

Faction Potions
Item
Cost
Description

Potion of Peace: DaBashers

172

Sets Faction to default for your race/class

Potion of Peace: Emerald Warriors

172

Sets Faction to default for your race/class

Potion of Peace: Faydarks Champions

172

Sets Faction to default for your race/class

Potion of Peace: Guardians of the Vale

172

Sets Faction to default for your race/class

Potion of Peace: Guards of Qeynos

172

Sets Faction to default for your race/class

Potion of Peace: Heretics

172

Sets Faction to default for your race/class

Potion of Peace: High Guard of Erudin

172

Sets Faction to default for your race/class

Potion of Peace: Indigo Brotherhood

172

Sets Faction to default for your race/class

Potion of Peace: Kael Drakkel

172

Sets Faction to default for your race/class

Potion of Peace: King AkAnon

172

Sets Faction to default for your race/class

Potion of Peace: Oggok Guards

172

Sets Faction to default for your race/class

Potion of Peace: Skyshrine

172

Sets Faction to default for your race/class

Potion of Peace: Storm Guard

172

Sets Faction to default for your race/class

Potion of Peace: The Freeport Militia Token

172

Sets Faction to default for your race/class

Potion of Peace: Thurgadin

172

Sets Faction to default for your race/class

Potion of Peace: Wolves of the North Token

172

Sets Faction to default for your race/class
Food/Drink
Item
Cost
Description

Triple Triage Ice Cream

4

Food

Grapes of Wrath

4

Food

Rilgor's Prime Number Ribs

4

Food

Tender Kromzek Kabob

4

Food

Deodan's Blueberry Muffins

4

Food

Metamorphic Oatmeal

4

Food

Solferino Sublime

4

Drink

Hazenfranze

4

Drink
Currency
Item
Cost
Description
Bag of Platinum

436

Receive Platinum. Average between 13-17K per bag.




Must be subscribed to purchase

Bag of Chronobines

18

Gives 100 Chronobines. SoD Currency (The Void – Zebuxoruk)

Bag of Doubloons

11

Gives 100 Doubloons. TBS Currency (The Buried Sea – Halon Griere)

Bag of Ebon Crystals

7

Gives 100 Ebon Crystals. DoN Currency (Lavastorm Mountains – Evil Side)

Bag of Faycitum

14

Gives 100 Faycitum. SoF Currency (Dragonscale Hills – Fenden Helter)

Bag of Gold Tokens

50

Gives 50 Gold Tokens. UF Currency (Brell's Rest – Gilbot the Golden)

Bag of Silver Tokens

50

Gives 200 Silver Tokens. UF Currency (Brell's Rest – Gilbot the Magnificent)

Bag of Orux

18

Gives 100 Orux. TBS Currency (Katta Castrum – Trader XXX – Group Vendors)

Bag of Phosphenes

11

Gives 100 Phosphenes.  TBS Currency (Katta Castrum – Master XXX – Raid Vendors)

Bag of Phosphites

11

Gives 10 Phosphites. TBS Currency (Katta Castrum – Master Pokk – Power Sources)

Bag of Radiant Crystals

7

Gives 100 Radiant Crystals. DoN Currency  (Lavastorm Mountains – Good Side)
Ornaments
Item
Cost
Description

Scutum Shield Ornament

275

Shield

Greatmaul of the Prismatic Flight Ornament

275

2H

Arx Mentis Mace Ornament

275

2H

Dwarven Heart of Underfoot Axe Ornament

275

2H

Cold Steel Wingblade Ornament

275

1H or H2H

Nightmare Katar Ornament

275

1H or H2h

Invader Club Ornament

275

1H or H2H

Ice Sabre Ornament

275

1H or H2H

Mayong Scimitar Ornament

275

1H or H2H

Sol Ro Battle Hammer Ornament

275

1H or H2H
Familiar
Item
Cost
Description

Solusek Ro Puppet

72

Summons a Solusek Ro Puppet Familiar
Housing Items
Item
Cost
Description

Monel Style Brick Manor, Stone Interior

432

House

Monel Style Brick Manor, Stucco Interior

432

House

Monel Style Brick Manor, Wood Interior

432

House

Monel Style Country Manor, Stone Interior

432

House

Monel Style Country Manor, Stucco Interior

432

House

Monel Style Country Manor, Wood Interior

432

House

Monel Style Plaster Manor, Stone Interior

432

House

Monel Style Plaster Manor, Stucco Interior

432

House

Monel Style Plaster Manor, Wood Interior

432

House

Zimel Style Plaster Manor, Stone Interior

432

House

Zimel Style Plaster Manor, Stucco Interior

432

House

Zimel Style Plaster Manor, Wood Interior

432

House

Zimel Style Stone Manor, Stone Interior

432

House

Zimel Style Stone Manor, Stucco Interior

432

House

Zimel Style Stone Manor, Wood Interior

432

House

Zimel Style Stucco Manor, Stone Interior

432

House

Zimel Style Stucco Manor, Stucco Interior

432

House

Zimel Style Stucco Manor, Wood Interior

432

House

Aqueduct Package

32

Housing Decoration Package

Aqueduct Right Angle Channel

4

Housing Decoration

Aqueduct Straight Channel

4

Housing Decoration

Aqueduct Terminus

4

Housing Decoration

Aqueduct Origin

4

Housing Decoration

Gold Trimmed Tree with Lights and Globes

432

Housing Decoration

Gold Trimmed Tree with Lights

324

Housing Decoration

Hanging Lights Package

324

Housing Decoration Package (4x Hanging Lights)


Gold Trimmed Tree

216

Housing Decoration

Lamp with Gold Tinsel

108

Housing Decoration

The Punting Gnome

108

Placeable item. Punts player from guild hall and/or house to Marketplace area near guild lobby

Gold Ornament Package

54

Housing Decoration Package (4x Gold Ornaments)

Firiona Vie Statue

12

Housing Decoration