For Bards in Scars of Velious we will mostly focus on AC and HP. We also want to have well rounded stats and resists. There are a lot of options in many items slots with comparable stats. Try to aim for the highest overall stats possible. We can optionally pick up some +Mana Regen and +Attack items. We also need a haste item. Lastly, we want to get instruments for every Instrument Skill type.
Below are stats you can expect with the gear below. Your results will vary depending on which items you choose, your race, and starting stats.
If I missed a better item in any slot, feel free to let me know in Discord.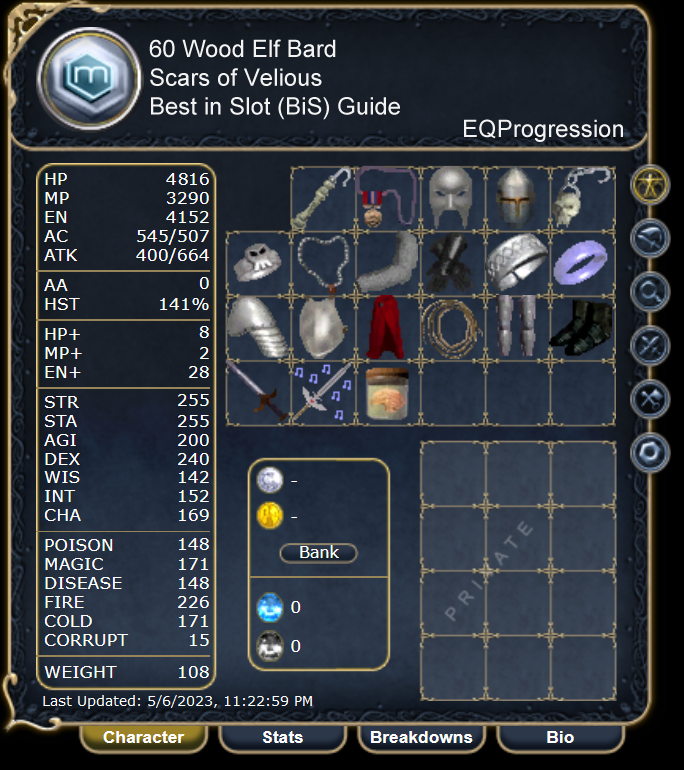 Slot
Item
Drop Location
Primary


Nature's Melody




BiS

PoGrowth: Tunare

Secondary


Vyemm's Fang
Option 1 (Ratio)

Baton of Flame
Option 2 (Ratio)

Singing Short Sword
BiS (Instrument)

Temple of Veeshan: Lord Vyemm



Temple of Veeshan: Zlexak



Bard 1.0 Epic

Instruments


Singing Short Sword
All Instruments: 8

Drums of the Beast
Percussion: 16 + Enduring Breath

Selo`s Drums of the March
Percussion: 14

Immaculate Shell Horn
Brass: 15

Denon's Horn of Disaster
Brass: 15

McVaxius` Horn of War
Brass: 14

Lyran's Mystical Lute
String: 15

Kelin`s Seven Stringed Lute
String: 14

Flute of the Sacred Glade
Wind: 15

Lyssa`s Darkwood Piccolo
Wind: 14

Bard 1.0 Epic



Siren's Grotto: shimmering sea spirit



Kunark Dragons / Lord Nagafen



Siren's Grotto: a neriad weaver/a siren enticer



Poky Bard Quest



Kunark Dragons / Lady Vox



Veeshan's Peak: Silverwing



PoHate: Maestro of Rancor



PoGrowth: Prince Thirneg


PoFear: Dread/Fright Terror



Ears


Vyrinn's Earring of Insanity
BiS

Earring of Living Flame
BiS

Temple of Veeshan: Vulak`Aerr



Temple of Veeshan: Halls of Testing Quest

Neck

Valtron's Necklace of Wonder




BiS

Temple of Veeshan: Vulak`Aerr

Face

Akkirus' Mask of Warfare
Option 1

Ssra's Bloodstone Eyepatch
Option 2

Silver Mask of the Slayer
Option 3: +10 Attack

Temple of Veeshan: Vulak`Aerr



Temple of Veeshan: Vulak`Aerr



Temple of Veeshan: Halls of Testing Quest

Head

Hobart's War Helmet
BiS


Crown of the Kromzek Kings
Alternate


White Dragon Helm
Alternate


Temple of Veeshan: Vulak`Aerr



Kael: King Tormax



Lord Yelinak Quest

Fingers


Crystasia's Crystal Ring
BiS

Ring of Destruction
BiS

Temple of Veeshan: Vulak`Aerr



Kael: Avatar of War

Wrists

Silver Bracelet of Speed
BiS (41% Haste)

Silver Charm of Tranquility
BiS

Temple of Veeshan: Halls of Testing Quest



Temple of Veeshan: Halls of Testing Quest

Arms

Onyx Chain Sleeves
Option 1

Kelsiferous' Armband of Artistry
Option 2

Temple of Veeshan: Eashen of the Sky



Temple of Veeshan: Vulak`Aerr

Hands

Do`Vassir's Gauntlets of Might




BiS

Velium Encrusted Gauntlets
Option 2

Onyx Gauntlets
Option 3

Gauntlets of Dragon Slaying
Option 4: 41% Haste

Temple of Veeshan: Vulak`Aerr





Kael: King Tormax



Temple of Veeshan: Lord Vyemm



Skyshrine: Lord Yelinak Quest

Shoulders

Pauldrons of the Deep Flame
Option 1

Viik's Pauldrons of Pain
Option 2

Temple of Veeshan: Halls of Testing Quest



Temple of Veeshan: Vulak`Aerr

Chest

Breastplate of Eradication




BiS (There are many good Alternate Chest slots)

Kael: The Statue of Rallos Zek

Back

Cloak of the Fire Storm
Option 1 (40% Haste)


Net of the Deep Sea
Option 2


Cloak of the Falling Stars
Option 3


Temple of Veeshan: Halls of Testing Quest



Temple of Veeshan: Lord Koi`Doken



Kael: The Statue of Rallos Zek



Waist

Feeliux's Cord of Velocity
Option 1 (41% Haste)

Belt of Dwarf Slaying
Option 2 (+10 ATK)

Girdle of Living Thorns
Option 3

Bile Etched Obsidian Choker
Option 4: See Invisible

Temple of Veeshan: Vulak`Aerr






King Tormax Quest






PoGrowth: Tunare






PoFear 2.0: Cazic Thule

Legs

Troubadour's Greaves
Option 1


Greaves of the Deep Sea
Option 2/Enduring Breath


Ancient Wurm Hide Greaves
Option 3


Onyx Chain Leggings
Option 4


Bard Kael Armor



Temple of Veeshan: Lord Koi`Doken



Temple of Veeshan: Dagarn the Destroyer



Temple of Veeshan: Jorlleag

Feet

Boots of the Storm
Option 1

Maclaer's Boots of Silence
Option 2

Boots of the Vindicator
Option 3

Kael: King Tormax



Temple of Veeshan: Vulak`Aerr



Kael: Derakor the Vindicator

Ranged

Orb of the Deep Sea
AC Option/Enduring Breath


Vyemm's Left Eye
Balanced Option

Brain of Cazic-Thule
Balanced Option 2 (+1 Mana Regen)

Temple of Veeshan: Lord Koi`Doken



Temple of Veeshan: Lord Vyemm



PoFear 2.0: Cazic Thule