Our main priorities are going to be:
– BiS Weapons
– As much +worn Attack as possible (250 cap)
– 41% Worn Haste
– Pet focus Item (Gloves)
– +5% H2H Skill (Gloves)
– +Mana Preservation (Optional): See Face (Benefical), Wrist (DoT), and Feet (Detrimental) slots for options. Recommended if you're casting and/or buffing a lot.
– +Buff Duration (Optional): See Shoulders Option
– +Mana Regen (Neck and Shoulders)
– Heroic Strength (From Necklace)
Below is an ESTIMATE of what your stats will be. This profile was a little low on Offensive skill so Attack was estimated. You also will have some variation based on which items you choose.
This character doesn't have any AA +stat clickies (Mana/HP/Regen/Resists, etc) clicked, so if you have any of those add them onto this profile to estimate your stats.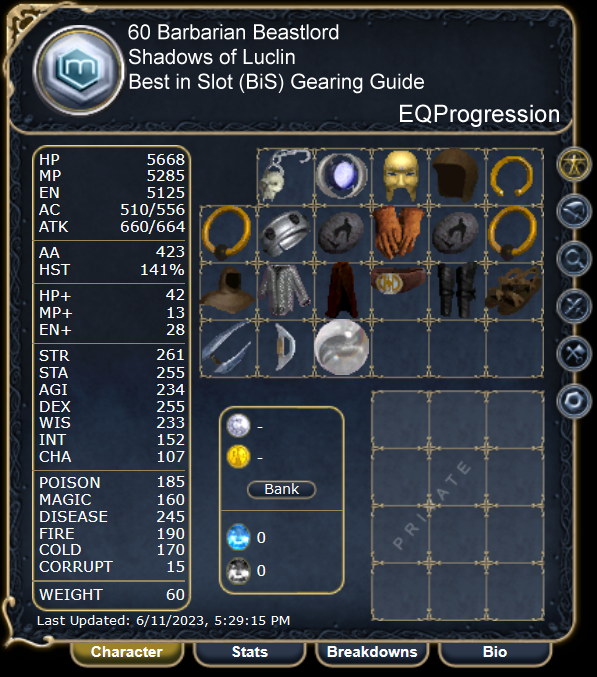 Slot
Item
Drop Location
Weapons


Fangs of Vyzh`dra




BiS

Glowing Mithril Ulak
2nd BiS

Gharn's Rock of Smashing
3rd BiS

Fist of Nature
Alternate Option (procs root)

Fist of Glowing Acrylia
Alternate Option

Horns of Chaos
Alternate Option
Wurmscale Fistwraps
Alternate Option

Ssraeshza Temple: Vyzh`dra the Cursed

&nfsp
Ssraeshza Temple: Xerkizh the Creator



Temple of Veeshan: Vulak`Aerr



PoGrowth: Tunare



Ahkeva Ruins: The Itraer Vius



The Deep: Thought Horror Overfiend



Temple of Veeshan: Cekenar


Ears


Earring of Eradication




BiS – Lore

Earring of Falling Stars
BiS – Not Lore

Hoop of Chaos
Alternate – Not Lore

Earring of Battle
Alternate – Not Lore

Vex Thal: Aten Ha Ra





Vex Thal: Thall Va Kelun



Vex Thal: Thall Xundraux Diabo



Vex Thal: Va Xi Aten Ha Ra

Neck

Talisman of Vah Kerrath




BiS

Vex Thal: Aten Ha Ra Quest

Face
Crimson Runed Mask


Option 1: +Attack

Sanguine Eyepatch
Option 2: +1-15% Beneficial Mana Preservation

Vex Thal: Aten Ha Ra





Vex Thal: Thall Va Kelun


Head

Ancient Burrower Flesh Cap




Option 1 – Wisdom (Once have max melee stats)

Great Helm of True Vision
Option 2

The Deep – Burrower Event





Ssraeshza Temple: Arch Lich Rhag`Zadune

Fingers

Hoop of Chaos


BiS (Can wear 2)

Ring of Rage
Alternate (Can wear 2)

Ring of Dain Frostreaver IV
Alternate

Vex Thal: Thall Xundraux Diabo





Vex Thal: Thall Va Xakra



Dain Frostreaver Quest

Wrists

Bracer of Black Blood




Option 1

Cloudy Mark
Option 2 (Can wear 2)

Bracelet of Darkness
Alternate (DoT Mana Preservation 1-30%)

Vex Thal: Kaas Thox Xi Aten Ha Ra (North Blob)





Vex Thal: Va Xi Aten Ha Ra



Vex Thal: Kaas Thox Xi Aten Ha Ra (South Blob)

Arms


Mark of Shadows




BiS

Vex Thal: Kaas Thox Xi Aten Ha Ra (North Blob)

Hands

Dark Hand Wraps




BiS Melee (+5% H2H/+Attack)

Gloves of Dark Summoning
BiS (Pet Focus Item)

Vex Thal: Va Xi Aten Ha Ra





Vex Thal: Thall Va Kelun


Shoulders

Spiked Shoulderpads




Option 1: Attack

Blessed Coldain Prayer Shawl
Option 2: +3 Mana Regen/20% Buff Duration

Vex Thal: Kaas Thox Xi Aten Ha Ra (South Blob)





Velious 8th Shawl Quest

Chest

Lunar Fungus Covered Tunic




BiS

Vex Thal: Va Xi Aten Ha Ra

Back

Great Cloak of Shadows




BiS

Cloak of Destruction
Option 2

Vex Thal: Thall Xundraux Diabo





Vex Thal: Diabo Xi Xin

Waist

Girdle of Focus




Option 1

Cloudy Mark
Option 2 – Not Lore

Belt of Dwarf Slaying
Alternate 2

Vex Thal: Thall Va Kelun





Vex Thal: Va Xi Aten Ha Ra



Dain Frostweaver/King Tormax Quest


Legs

Leg Guard of Shadows




BiS

Vex Thal: Aten Ha Ra

Feet

Boots of the Wind




Mana Preservation Option: +1-20% Detrimential – Pair with Shiny Trinket of Speed (Ranged)

Envenomed Moccasins
Haste Option 1: Ideally you'll have haste on boots or ranged so you don't lose attack cap to get haste

Shadow Footpads
Haste Option 2: Ideally you'll have haste on boots or ranged so you don't lose attack cap to get haste

Sandals of Contemplation
Optional if lacking +Attack – Haste will be required elsewhere to use this.

Vex Thal: Thall Xundraux Diabo







Ssraeshza Temple: Emperor Ssraeshza





Vex Thal: Thall Va Xakra





Vex Thal: Kaas Thox Xi Ans Dyek

Ranged

Orb of Evasion




Option 1: Wisdom/+Dodge Mod%

Orb of Satisfaction
Option 2: Wisdom

Shiny Trinket of Speed
Haste Option – Ideally you'll have haste on Feet or ranged so you don't have to attack cap to get haste.

Vex Thal: Kaas Thox Xi Ans Dyek





Vex Thal: Kaas Thox Xi Aten Ha Ra (South Blob)



Ssraeshza Temple: Xerkizh The Creator