Use this guide as a tool to help yourself decide on how you want to gear. Clickies are not included. For Clicky information check out the Cleric Clicky Page.  
In PoP we want: Focus Items (shown in list below), +15 Mana Regen from items, and as much Mana as possible (including Heroic Wisdom). We also want to consider Heroic Stamina/Agility/AC to increase our defense.
Below are estimated stats you can expect:
This character doesn't have any +stat AA clickies (Mana/HP/Regen/Resists, etc) clicked, so if you have any of those add them onto this profile to estimate your stats.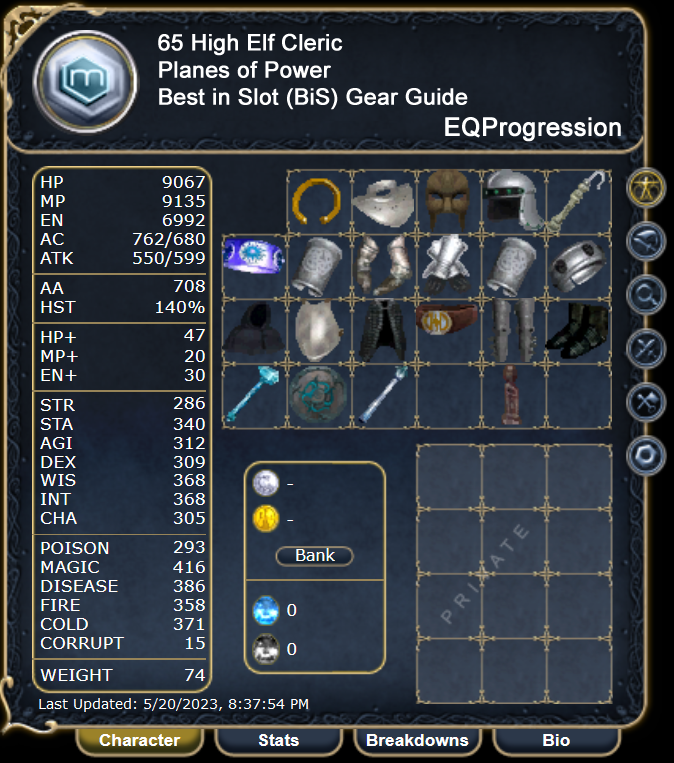 Slot
Item
Drop Location
Primary


Hammer of Holy Vengeance




BiS

PoTime: Vallon Zek

Secondary


Whorl of Unnatural Forces




Option 1: +4 H Stamina/+5 Mana Regen/High AC

Tactcian's Shield
Option 2: BiS Mana

PoTime: Quarm





PoTime: Tallon Zek

Ears


Earring of Unseen Hours




BiS: +30% Beneficial Spell Haste/+3 Mana Regen

Earring of Influxed Gravity
BiS: +25% Spell Range (Also on Face Option)/+3 Mana Regen


PoTime: Cazic Thule






PoTime: Quarm

Neck

Necklace of Eternal Visions




+1-20% Beneficial Mana Preservation

PoTime: Innoruuk

Face
Mask of Simplicity


BiS (+3 Mana Regen/+20% Beneficial Spell Mana Preservation

Visor of the Berserker
Option 2: +25% Spell Range/AC (Decent choice if Mana Regen is capped and have +20% Mana Preservation from Necklace) Ear BiS also has +25% Spell Range.

PoTime: Cazic Thule







PoTime: Rallos Zek

Head

Helm of Flowing Time




BiS

PoTime: Vallon Zek

Fingers

Pulsing Onyx Ring


BiS: +25% Beneficial Spell Duration/+3 Mana Regen

Prismatic Ring of Resistance
BiS Mana


Ring of Evasion
Alternate (Heroic Agility/+3 Mana Regen)


PoTime: Bertoxxulous





PoTime: Quarm



PoTime: Saryrn

Wrists

Earthen Bracer of Fortitude




BiS: +23% Spell Haste




Bracer of Precision
BiS: Heroic Stamina


Wristband of Echoed Thoughts
Alternate: +5 Mana Regen/Max Mana


PoTime: Quarm





PoTime: Tallon Zek



PoTime: Cazic Thule

Arms


Armguards of the Brute




BiS: Faerune

PoTime: Terris Thule

Hands

Gloves of Airy Mists




BiS

Padded Tigerskin Gloves
Alternate

PoTime: Innoruuk





PoTime: Cazic Thule

Shoulders

Shawl of Eternal Forces




BiS Mana

Mantle of Pure Spirit
Alternate: Mana/+1-30% Healing

Pauldrons of Devastation
Alternate AC

PoTime: Quarm





PoTime: Cazic Thule



PoTime: Rallos Zek

Chest

Ultor's Chestguard of Faith




BiS: +1-30% Healing

PoTime: Rallos Zek/Quarm (Plate Mold)

Back

Shroud of Eternity




BiS Mana (Contested)

Platinum Cloak of War
Alternate

PoTime: Quarm





PoTime: Rallos Zek

Waist

Belt of Temporal Bindings




BiS




PoTime: Bertoxxulous

Legs

Greaves of Furious Might




BiS



PoTime: Cazic Thule

Feet

Boots of Despair




BiS

PoTime: Bertoxxulous

Ranged

Spool of Woven Time




BiS: +5 Mana Regen/+1-30% All Direct Damage




PoTime: Quarm

Charm

Intricate Wooden Figurine




BiS




PoP Progression