Enchanters in Ruins of Kunark will want a good amount of AC and HP so they can take hits during charm breaks, and during mez/slow resists. Enchanters obviously want to get mana as well to cast spells, but we don't need to min/max it as much as a Wizard or Magician would.
Below are approximate stats you can expect with the gear below. Your results will vary a bit depending on which items you choose, your race, and starting stats.
If I missed a better item in any slot, feel free to let me know in Discord.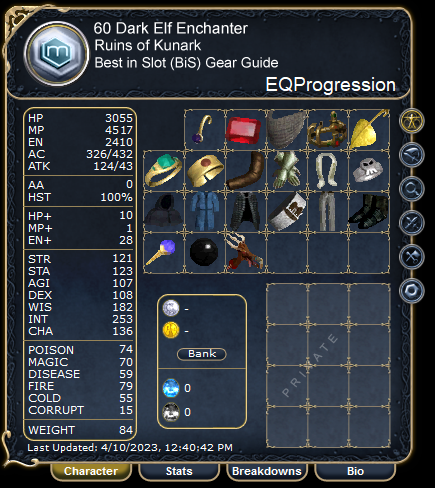 Slot
Item
Drop Location
Primary


Fatesealer




Option 1

Staff of the Serpent
Option 2

Veeshan's Peak: Hoshkar





Enchanter Epic 1.0

Secondary


Insignia Protector




AC Option

Arcane Orb of the Dark
AC Option (HUM ERU DEF FRG)

Chardok: Queen Velazul Di`zok





Kunark Quest

Ears


Yunnb's Earring




BiS

Earring of Blazing Energy
BiS

Veeshan's Peak: Phara Dar





Chardok: Grave Master Zo`lun

Neck

Pulsating Gem




BiS

Black Sapphire Platinum Necklace
Alternate

Veeshan's Peak: Qunard Ashenclaw





Jewelcrafting

Face

Enshrouded Veil




BiS




Darkbrood Mask
Dark Elf Alternate


Howling Stones: Embalming Fluid





PoHate: Innoruuk



Head

Crown of Rile




Option 1




Veeshan's Peak: Phara Dar




Fingers

Regal Band of Bathezid


BiS

Di'Zok Signet of Service
BiS

Chardok Quest





Chardok Quest

Wrists

Supple Scale Armband




BiS

Spirit Wracked Cord
BiS


Karnor's Castle: a Drovarg warlord





Chardok Quest/Chardok: Grand Lorekeeper Kino Shai`din(Rare Drop)

Arms


Cryosilk Sleeves




Option 1

Insidious Sleeves
Option 2

PoFear: a spinechiller spider





PoFear: a spinechiller spider

Hands

Ancient Shissar Gauntlet




BiS

Karnor's Castle: Venril Sathir

Shoulders

Squallsurge Shawl




Alternate

Kedge Keep: Undertow

Chest

Robe of the Azure Sky




BiS

Crimson Robe of Alendine
Alternate


Robe of Smothering
Alternate


Insidious Robe
Alternate


Cryosilk Robe
Alternate


Veeshan's Peak: Phara Dar





PoFear: a dracoliche



Veeshan's Peak: Silverwing



PoHate: revenants



PoFear: a spinechiller spider



Back

Shroud of Veeshan




Option 1

Hierophant's Cloak
Option 2


Veeshan's Peak: Phara Dar





Old Sebilis: Hierophant Prime Grekal



Waist

Bone-Clasped Girdle




BiS

Brell's Girdle
Alternate

PoFear: a dracoliche





The Hole: Master Yael


Legs

Tanned Iksar Hide Leggings




BiS

Chardok: Grand Lorekeeper Kino Shai`din

Feet

Sarnak Hide Boots




BiS

Chardok: Watch Sergeant Riz`oul




Ranged

Bronze Statue of Bathezid




BiS




Idol of the Underking
Alternate


Iksar Hide Manual
Alternate

Chardok: Captain Di`ouz





The Hole: Master Yael



Chardok: Sarnak Collective Auditor