Ukun Bloodfeaster Raid Event
Txevu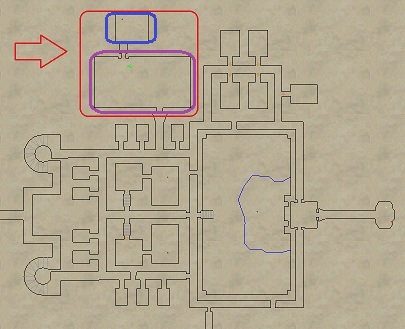 This is a crowd control oriented fight.
When you approach the event room area you'll have some trash to clear out in the purple room (see map). Once clear, open the door to the blue room (see map) to start the event. Ukun Bloodfeaster and about a large group of stonemites will immediately rush out into the purple room. You may want to have a Ranger Weaponshield or Warrior Furious engage to start off to buy time get all of the adds under control.

The stonemites are level 53-54 and can be AE mezzed. Have enchanters be ready to mez them ASAP.  3x an ukun maulers also spawn, make sure to get tanks (or mez) them as well, they are not overly difficult and can be slowed. Some are above level 68 so may not be mezzable.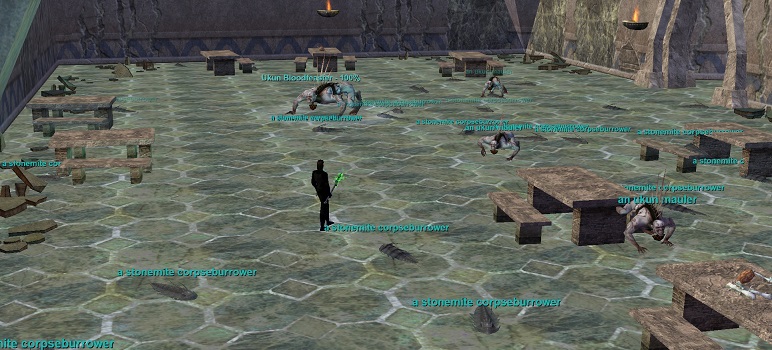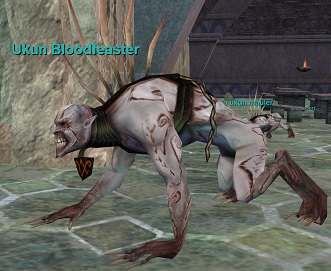 Have a tank ready to pick up Ukun Bloodfeaster also. Get all adds under control. Every 35 seconds, approx. 12 additional stonemites spawn and rush the room. Enchanters will want to get them AE CC'd.
In order to stop the stonemites from spawning you can kill a decaying corpse's in the north room that they are rushing in from (blue room on map), they have 50K HP each. Less stonemites spawn for each a decaying corpse you kill. There are 6x a decaying corpse total.
Kill Ukun Bloodfeaster while staying in control of the stonemites to complete the event.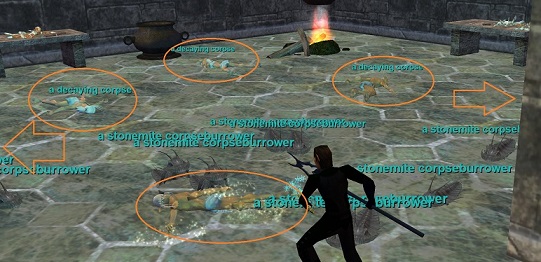 Fight Info
Ukun Bloodfeaster
– Approx. 1 million HP
– Hits 1700+ (35 Heroic Stamina)
– Slowable
– Flurries
– Procs Corrupted Laceration (Single Target, 1000 DD, -25% Attack Speed. 350 DoT, -350 Poison Based, 45 Poison Cure)
Stonemites
– 10K HP
– Mezzable (can AE mez)
– Hit 300+ (35 Heroic Stamina)
an ukun mauler
– Estimated 200K HP
– Max hit Approx. 1000
– Partitially Mezzable (some are above level 68 and may not be mezzable in era)
– Slowable
– Procs Corrupted Laceration (Single Target, 1000 DD, -25% Attack Speed. 350 DoT, -350 Poison Based, 45 Poison Cure)
– Procs Ukun Chains (Single Target, Snare + Small DoT, Magic Based)