Our goal as a Magician in Classic will simply be to maximize our mana pool. Rarely we'll replace Mana for HP if the difference is large enough, but this is optional (i.e. bracer).
Below are approximate stats you can expect with the gear below. Your results will vary a bit depending on which items you choose, your race, and starting stats.
If I missed a better item in any slot, feel free to let me know in Discord.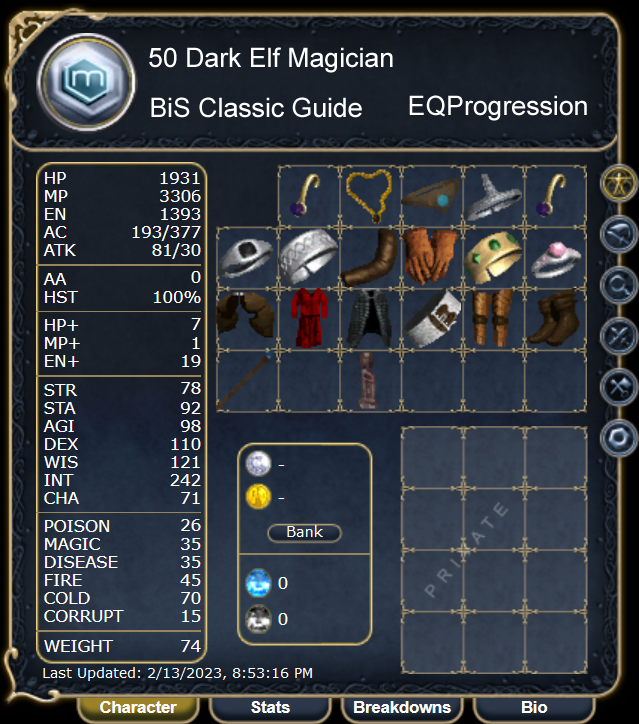 Slot
Item
Drop Location
Primary


Staff of the Magister




BiS Mana (2-hand)

Tome of Miragul
Option 2 (1-Hand) Comparable to 2H Option when used with Secondary

PoSky Magician Quest





The Hole: an ancient construct/Dartain the Lost? Not confirmed.


Secondary


Stein of Moggok




BiS Mana

Rokyls Channelling Crystal
Option 2


Cryosilk Webshield
Option 3


Quest





SolB: Magus Rokyl


PoFear: a spinechiller spider

Ears


Golden Black Sapphire Earring




BiS (Can wear 2)

Ivandyr's Hoop
Alternate


Batskull Earring
Alternate (Can wear 2)


Jewelcrafting





Innothule Swamp: Lynuga Quest



West Karana: an ogre priestess/shamaness, Chief Goonda

Neck

Gold White Pendant




BiS Mana

Black Sapphire Platinum Necklace
Alternate

PoSky Magician Quest





Jewelcrafting

Face
Torbin's Mystical Eyepatch


BiS




Darkbrood Mask
Dark Elf Option


Lady Vox

PoHate: Innoruuk

Head

Apothic Crown




BiS Mana




Cryosilk Cap
Option 2


Platinum Tiara
Option 3


Runed Cowl
Option 4


PoHate: a forsaken revenant





PoFear: a frightfinger



Lower Guk: a froglok tactician



Lower Guk: a ghoul sage

Fingers

Duennan Shielding Ring


BiS

Moonstone Ring
Option 2: Mana (Can wear 2)

Platinum Skull Ring
Option 3: HP/Mana (Can wear 2)

Engineer's Ring
Gnome BiS

PoSky Magician Quest





Lower Guk: a frenzied ghoul



Castle Mistmoore: Lasna Cheroon



PoHate: Innoruuk

Wrists

Bracelet of Clarification




BiS

Bracelet of Exertion
Option 2

Loam Encrusted Bracelet
Option 3 (Can wear 2)


Golden Chitin Bracer
Alternate (Can wear 2)

Ring of the Ancients
Alternate

PoSky Magician Quest





PoSky: Various mobs



The Hole: muck covered elemental/an elemental warrior (unconfirmed)



SolB: a noxious spider



Ocean of Tears: an ancient cyclops

Arms


Apothic Sleeves




BiS

Cryosilk Sleeves
Alternate


PoHate: a forsaken revenant





PoFear: a spinechiller spider


Hands

Slime Blood of Cazic-Thule




BiS Overall stats (but used in Necro Epic)

Apothic Gloves
BiS Mana

Cryosilk Gloves
Alternate

White Satin Gloves
Alternate

Impskin Gloves
Alternate

PoFear: Cazic-Thule (pre-revamp)





PoHate: a forsaken revenant



PoFear: a spinechiller spider



PoSky: Various Trash Mobs



SolA: Kindle


Shoulders

Drake-Hide Amice




BiS

Squallsurge Shawl
Alternate

PoSky Magician Quest





Kedge Keep: Undertow

Chest

Crimson Robe of Alendine




BiS

Apothic Robe
Option 2


Cryosilk Robe
Option 3


Loam Encrusted Robe
Option 4


PoFear: Cazic-Thule/a dracoliche





PoHate: a forsaken revenant



PoFear: a spinechiller spider



The Hole: Master Yael, a flighty fiend?


Back

White Dragonscale Cloak




BiS



Lady Vox (Quest)

Waist

Bone-Clasped Girdle




BiS

Brell's Girdle
Alternate

PoFear 1.0 (pre-revamp): a dracoliche





The Hole: Master Yael


Legs

Loam Encrusted Pantaloons




BiS

Cryosilk Pantaloons
Alternate


Black Chitin Leggings
Alternate


The Hole: an elemental monstrosity / an elemental warrior, Stonegrinder Minion (unconfirmed)

PoFear: a spinechiller spider / PoHate: a haunted chest

SoLB: death beetle

Feet

Golden Efreeti Boots




BiS

SolB: Efreeti Lord Djarn

Ranged

Idol of the Underking




BiS



The Hole: Master Yael