Magician Pet Stat Guide (Classic – Omens of War)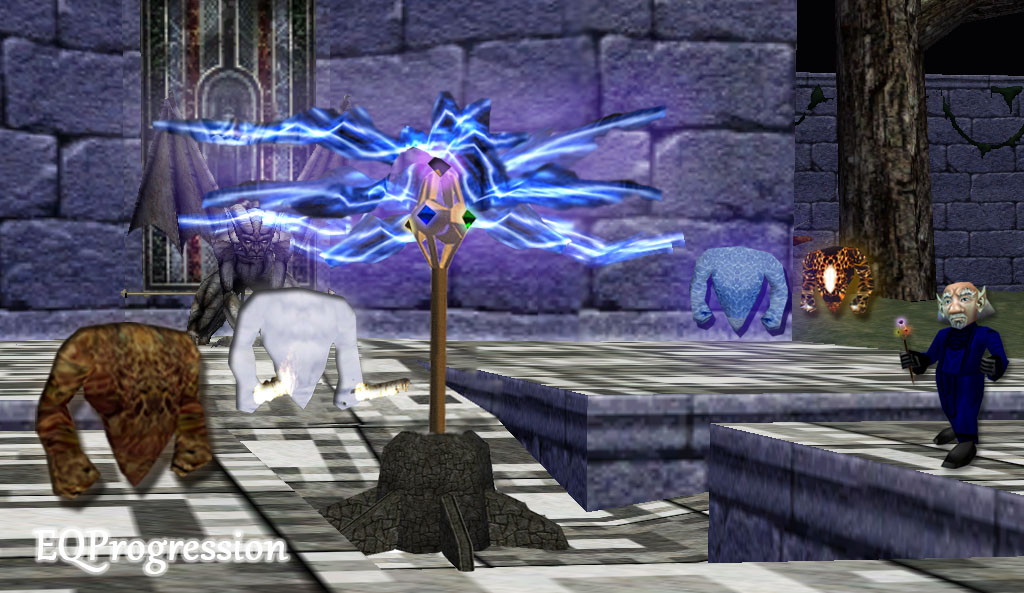 1) The patch notes below that explain there is a pet stat adjustment to live levels when the LDoN expansion is released. Before LDoN is out they are weaker overall. This chart reflects pet stats after LDoN is out.


2) Magician Pet abilities:
Air – Stun Proc
Earth – Root Proc (18 second duration)
Fire – Fire DD Proc and self-damage shield aura. The DS is a permanent aura but sometimes takes a minute for the pet to cast it after being summoned. Beginning in Kunark, the proc is replaced by a casted spell that does substantially more damage than the proc.
Water – Water DD Proc and also Backstabs at 51+. Backstabs generally are 3-5 times the damage a normal melee hit when it hits for max.
3A) The Max Hit column is in the following format: Max Melee (Special Damage) (Secondary Special Damage)
Examples:
Elementalkin Earth – 12 (0) means it melees for max 12, root DD does 0 damage.
Elementalkin Air – 12 (0) means it melees for max 12, stun DD does 0 damage.
Elementalkin Fire – 12 (6) (7) means it melees for max 12,  Fire Proc is 6 damage (In spell level 50+ pets this is replaced by casted spell), damage shield of 7.
Vocarate Water – 56 (112) (BS) means it melees for max 56, Water Proc is 112 damage, and Backstacks (Max Backstab is usually 3-5 times of a normal melee hit).
3B) HP % Increase shows HP increase in % over same pet of previous tier.
4) All stats are unfocused unless noted otherwise. The effect focus items have on a pet vary. Generally, the higher rank of the focus the more of an impact you will see.  PoP and OoW pets can see improvements of 1-2k HP and 20% more damage from the best focus items. With low tier pets and focus items you will see only very minor improvements.
**In Gates of Discord there is an AA (Companion's Fortification Rank 6) that increases pet HP by 10%. Once purchased it effects all pets regardless of spell level. This guide does NOT take that into account.**

| | | | | |
| --- | --- | --- | --- | --- |
| Elementalkin (2 – 5) | Est. HP | Max Hit | Level | HP % Increase |
| Air | 75 | 12 (0) | 5 | N/A |
| Earth | 100 | 12 (0) | 5 | N/A |
| Fire | 60 | 12 (6) (7) | 5 | N/A |
| Water | 80 | 12 (6) | 5 | N/A |
| Elementaling (6-9) | Est. HP | Max Hit | Level | HP % Increase |
| Air | 175 | 16 (0) | 9 | 133% |
| Earth | 250 | 16 (0) | 9 | 150% |
| Fire | 145 | 16 (10) (11) | 9 | 142% |
| Water | 210 | 16 (10) | 9 | 163% |
| Elemental (10-13) | Est. HP | Max Hit | Level | HP % Increase |
| Air | 240 | 18 (0) | 12 | 37% |
| Earth | 360 | 18 (0) | 12 | 44% |
| Fire | 180 | 18 (13) (14) | 12 | 24% |
| Water | 290 | (13) | 12 | 38% |
| Minor Summoning (14 – 17) | Est. HP | Max Hit | Level | HP % Increase |
| Air | 380 | 20 (0) | 17 | 58% |
| Earth | 500 | 20 (0) | 17 | 39% |
| Fire | 290 | 20 (18) (19) | 17 | 61% |
| Water | 430 | 20 (18) | 17 | 48% |
| Lesser Summoning (18 – 21) | Est. HP | Max Hit | Level | HP % Increase |
| Air | 500 | 22 (0) | 20 | 32% |
| Earth | 700 | 22 (0) | 20 | 40% |
| Fire | 390 | 22 (21) (22) | 20 | 34% |
| Water | 560 | 22 (21) | 20 | 30% |
| Summoning (22 – 25) | Est. HP | Max Hit | Level | HP % Increase |
| Air | 560 | 26 (0) | 23 | 12% |
| Earth | 830 | 24 (0) | 23 | 19% |
| Fire | 460 | 24 (24) (25) | 23 | 18% |
| Water | 680 | 26 (24) | 23 | 21% |
| Greater Summoning (26 – 29) | Est. HP | Max Hit | Level | HP % Increase |
| Air | 670 | 28 (0) | 26 | 20% |
| Earth | 1000 | 28 (0) | 26 | 20% |
| Fire | 520 | 28 (27) (28) | 26 | 13% |
| Water | 800 | 28 (27) | 26 | 18% |
| Minor Conjuration (31 -34) | Est. HP | Max Hit | Level | HP % Increase |
| Air | 820 | 34 (0) | 29 | 22% |
| Earth | 1150 | 32 (0) | 29 | 15% |
| Fire | 610 | 32 (30) (31) | 29 | 18% |
| Water | 1050 | 34 (30) | 29 | 21% |
| Lesser Conjuration (36 – 39) | Est. HP | Max Hit | Level | HP % Increase |
| Air | 1000 | 40 (0) | 33 | 22% |
| Earth | 1500 | 40 (0) | 33 | 30% |
| Fire | 820 | 40 (34) (35) | 33 | 33% |
| Water | 1180 | 40 (34) | 33 | 12% |
| Conjuration (41  – 44) | Est. HP | Max Hit | Level | HP % Increase |
| Air | 1150 | 48 (0) | 37 | 15% |
| Earth | 1720 | 46 (0) | 37 | 15% |
| Fire | 900 | 48 (38) (39) | 37 | 10% |
| Water | 1360 | 48 (38) | 37 | 15% |
| Greater Conjuration (46  – 49) | Est. HP | Max Hit | Level | HP % Increase |
| Air | 2150 | 56 (0) | 41 | 87% |
| Earth | 3150 | 56 (0) | 41 | 83% |
| Fire | 1700 | 56 (42) (43) | 41 | 89% |
| Water | 2600 | 56 (42) | 41 | 90% |
| Vocarate (51 – 54) | Est. HP | Max Hit | Level | HP % Increase |
| Air | 2600 | 56 (55) | 45 | 21% |
| Earth | 3200 | 58 (55) | 45 | 2% |
| Fire | 1800 | 43 (539)(51) | 45 | 6% |
| Water | 2500 | 56 (112)(BS) | 45 | -4% |
| Greater Vocarate (57 – 60) | Est. HP | Max Hit | Level | HP % Increase |
| Air | 2700 | 68 (70) | 48 | 4% |
| Earth | 3250 | 70 (58) | 48 | 2% |
| Fire | 2100 | 48 (539) (51) | 49 | 17% |
| Water | 2500 | 68 (141)(BS) | 48 | 0% |
| Magician Epic | Est. HP | Max Hit | Level | HP % Increase |
| Epic Pet | 4000 | 81 (143) (50) | 49 | N/A |
| Epic Pet: Summoner's Boon | 4300 | 83 (145) (51) | 50 | N/A |
| Epic Pet: Minion of Darkness | 4450 | 85 (145) (51) | 50 | N/A |
| PoP Pets (61 – 65) | Est. HP | Max Hit |  Level | HP % Increase |
| Air | 4000 | 83 (86) | 60 | 48% |
| Air: Minion of Eternity | 5100 | 94 (89) | 63 | N/A |
| Air: Minion of Discord | 5800 | 104 (91) | 65 | N/A |
| Earth | 5100 | 79 (70) | 60 | 57% |
| Earth: Minion of Eternity | 6300 | 90 (73) | 63 | N/A |
| Earth: Minion of Discord | 7250 | 100 (75) | 65 | N/A |
| Fire | 2350 | 58 (765) (62) | 60 | 12% |
| Fire: Minion of Eternity | 3000 | 66 (812) (65) | 63 | N/A |
| Fire: Minion of Discord | 3350 | 68 (840) (67) | 65 | N/A |
| Water | 3600 | 81 (174) (BS) | 60 | 44% |
| Water: Minion of Eternity | 4700 | 92 (447) (BS) | 63 | N/A |
| Water: Minion of Discord | 5000 | 102 (184) (BS) | 65 | N/A |
| Omens of War Pets (66 – 70) | Est. HP | Max Hit | Level | HP % Increase |
| Air | 5700 | 104 (118) | 65 | 43% |
| Air: Minion of Eternity | 6500 | 117 (119) | 66 | N/A |
| Air: Minion of Discord | 6800 | 121 (120) | 67 | N/A |
| Air: Servant of Chaos | 6800 | 127 (121) | 68 | N/A |
| Earth | 7000 | 100 (75) | 65 | 37% |
| Earth: Minion of Eternity | 8050 | 115 (76) | 66 | N/A |
| Earth: Minion of Discord | 8250 | 120 (77) | 67 | N/A |
| Earth: Servant of Chaos | 8450 | 122 (78) | 68 | N/A |
| Fire | 3700 | 68 (1053) (67) | 65 | 47% |
| Fire: Minion of Eternity | 3850 | 78 (1103) (68) | 66 | N/A |
| Fire: Minion of Discord | 4350 | 80 (1133) (69) | 67 | N/A |
| Fire: Servant of Chaos | 4300 | 82 (1164) (70) | 68 | N/A |
| Water | 5000 | 102 (230) (BS) | 65 | 39% |
| Water: Minion of Eternity | 5800 | 116 (242) (BS) | 66 | N/A |
| Water: Minion of Discord | 5900 | 119 (245) (BS) | 67 | N/A |
| Water: Servant of Chaos | 6100 | 121 (248) (BS) | 68 | N/A |