Magician Pet Stats
(Classic – The Buried Sea)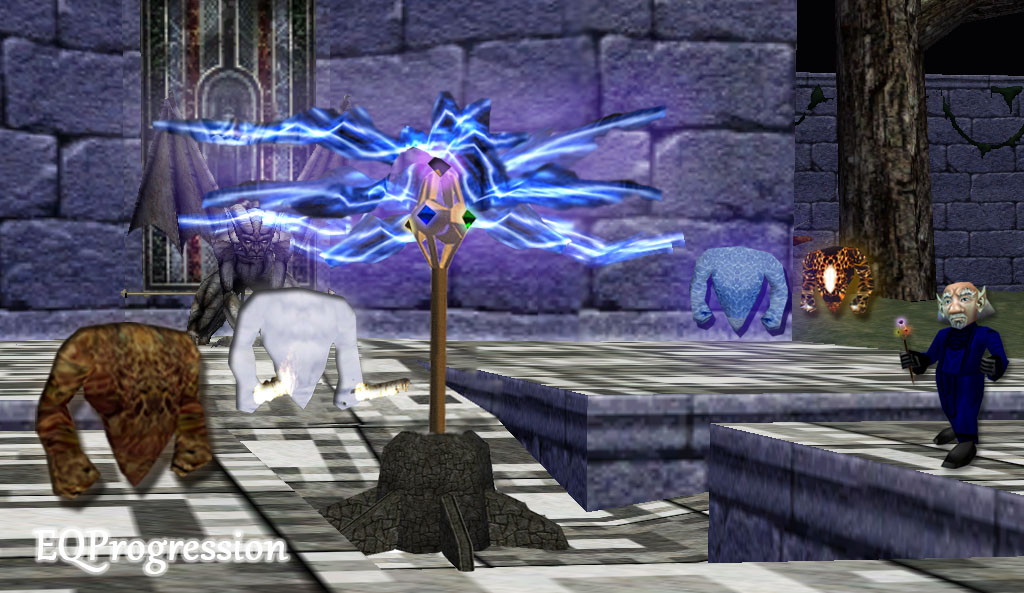 1) The patch notes below that explain there is a pet stat adjustment to live levels when the LDoN expansion is released. Before LDoN is out they are weaker overall. This chart reflects pet stats after LDoN is out.


2) Magician Pet abilities:
Air – Stun Proc
Earth – Root Proc (18 second duration)
Fire – Fire DD Proc and self-damage shield aura. The DS is a permanent aura but sometimes takes a minute for the pet to cast it after being summoned. Beginning in Kunark, the proc is replaced by a casted spell that does substantially more damage than the proc.
Water – Water DD Proc and also Backstabs at 51+ (without weapons). Backstabs are generally 3-5 times the damage a normal melee hit when it hits for max.
3A) The Max Hit column is in the following format: Max Melee (Special Damage) (Secondary Special Damage)
Examples:
Elementalkin Earth – 12 (0) means it melees for max 12, root DD does 0 damage.
Elementalkin Air – 12 (0) means it melees for max 12, stun DD does 0 damage.
Elementalkin Fire – 12 (6) (7) means it melees for max 12,  Fire Proc is 6 damage (In spell level 50+ pets this is replaced by casted spell), damage shield of 7. If DS is left out it is because I stopped parsing it. Eventually the fire pet aren't used to tank so it's DS doesn't have much relevance.
Vocarate Water – 56 (112) (BS) means it melees for max 56, Water Proc is 112 damage, and Backstabs.
4) All stats are unfocused unless noted otherwise. The effect focus items have on a pet vary. Generally, the higher rank of the focus the more of an impact you will see.  With low tier pets and focus items you will see only very minor improvements.
NOTES ON PET HP:
NOTE) HP of pets 1 – 59 may be a bit high (approx. 5% margin of error) since EQ didn't used to cut off numbers in logs in relation to NPC HP. EQ eventually patched this.

How it used to work: If a mob had 100 HP and you did 150 damage in 1 shot then 150 damage would show up in your log.
How it works now:  If the mob has 100 HP and you do 150 damage in 1 shot only 100 damage will show up in your log.
The HP of pet spells 61+ HP estimate should be almost exact since I parsed those after the fix.
NOTE) There is an Archtype tab AA called Companion's Fortification that increases your pets HP by a %. Once purchased it effects all pets regardless of spell level. This guide does NOT take that into account. To find your true pet HP multiply the HP number below by the percent of your Companion's Fortification AA HP % Rank.
Example: 1000 HP from chart below x 10% bonus HP from Companion's Fortification AA would be 1000 x 1.10 = 1100 Actual Pet HP
Elementalkin (2 – 5)
Est. HP
Max Hit
Level
Air

75

12 (0)

5

Earth

100

12 (0)

5

Fire

60

12 (6) (7)

5

Water

80

12 (6)

5

Elementaling (6-9)
Est. HP
Max Hit
Level
Air

175

16 (0)

9

Earth

250

16 (0)

9

Fire

145

16 (10) (11)

9

Water

210

16 (10)

9

Elemental (10-13)

Est. HP
Max Hit
Level
Air

240

18 (0)

12

Earth

360

18 (0)

12

Fire

180

18 (13) (14)

12

Water

290

(13)

12

Minor Summoning (14 – 17)
Est. HP
Max Hit
Level
Air

380

20 (0)

17

Earth

500

20 (0)

17

Fire

290

20 (18) (19)

17

Water

430

20 (18)

17

Lesser Summoning (18 – 21)

Est. HP
Max Hit
Level
Air

500

22 (0)

20

Earth

700

22 (0)

20

Fire

390

22 (21) (22)

20

Water

560

22 (21)

20

Summoning (22 – 25)
Est. HP
Max Hit
Level
Air

560

26 (0)

23

Earth

830

24 (0)

23

Fire

460

24 (24) (25)

23

Water

680

26 (24)

23

Greater Summoning (26 – 29)

Est. HP
Max Hit
Level
Air

670

28 (0)

26

Earth

1000

28 (0)

26

Fire

520

28 (27) (28)

26

Water

800

28 (27)

26

Minor Conjuration (31 -34)
Est. HP
Max Hit
Level
Air

820

34 (0)

29

Earth

1150

32 (0)

29

Fire

610

32 (30) (31)

29

Water

1050

34 (30)

29

Lesser Conjuration (36 – 39)

Est. HP
Max Hit
Level
Air

1000

40 (0)

33

Earth

1500

40 (0)

33

Fire

820

40 (34) (35)

33

Water

1180

40 (34)

33

Conjuration (41  – 44)
Est. HP
Max Hit
Level
Air

1150

48 (0)

37

Earth

1720

46 (0)

37

Fire

900

48 (38) (39)

37

Water

1360

48 (38)

37

Greater Conjuration (46  – 49)
Est. HP
Max Hit
Level
Air

2150

56 (0)

41

Earth

3150

56 (0)

41

Fire

1700

56 (42) (43)

41

Water

2600

56 (42)

41

Vocarate (51 – 54)
Est. HP
Max Hit
Level
Air

2600

56

45

Earth

3200

58

45

Fire

1800

43 (539)(51)

45

Water

2500

56 (112)(BS)

45

Greater Vocarate (57 – 60)
Est. HP
Max Hit
Level
Air

2700

68 (70)

48

Earth

3250

70 (58)

48

Fire

2100

48 (539) (51)

49

Water

2500

68 (141)(BS)

48

Magician Epic
Est. HP
Max Hit
Level
Epic Pet
4000
81 (143) (50)
49

Epic Pet: Summoner's Boon

4300

83 (145) (51)

50

Epic Pet: Minion of Darkness

4450

85 (145) (51)

50

PoP Pets (61 – 65)
Est. HP
Max Hit
 Level
Air
3800
83
60
Air: Minion of Darkness


4500

86

62

Air: Minion of Eternity

4800

94


63

Air: Ritual Summoning

5100

98

64

Air: Minion of Discord

5300

104


65

Earth

4700
79 (70)
60
Earth: Minion of Darkness


5400

82

62

Earth: Minion of Eternity

5900

90

63

Earth: Ritual Summoning

6150

94

64

Earth: Minion of Discord

6600

100

65

Fire
2100
58 (765) (62)
60
Fire: Minion of Darkness


2450

61 (852) (69)

62

Fire: Minion of Eternity

2850

66 (862) (70)

63

Fire: Ritual Summoning

2900

68 (880) (71)


64

Fire: Minion of Discord

3100

68 (890) (72)

65

Water
3400
81 (174) (BS)
60
Water: Minion of Darkness


4000

84 178 (BS)


62

Water: Minion of Eternity

4200

92 (447) (BS)

63

Water: Ritual Summoning

4500

96 (454) (BS)

64

Water: Minion of Discord

4800

102 (184) (BS)

65

OoW Pets (66 – 70)

Est. HP
Max Hit
Level
Child of Wind


5300
104
65

Air: Minion of Darkness

5800

116

66

Air: Minion of Eternity

6000

117


66

Air: Ritual Summoning

6100

120

67

Air: Minion of Discord

6300

121


67

Air: Servant of Chaos

6400

127

68

Air: Spire Servant

7000

132

68

Child of Earth

6600
100
65

Earth: Minion of Darkness

7300

113

66

Earth: Minion of Eternity

7500

115

66

Earth: Ritual Summoning

7600

118

67

Earth: Minion of Discord

7800

121


67

Earth: Servant of Chaos


8000

122

68

Earth: Spire Servant

8300

125

68

Child of Fire

3100
68 (1053) (67)
65

Fire: Minion of Darkness

3400

76 (1153)

66

Fire: Minion of Eternity

3500

78 (1103)

66

Fire: Ritual Summoning

3600

80 (1124)

67

Fire: Minion of Discord

3700

80 (1133)

67

Fire: Servant of Chaos

3750

82 (1164)

68

Fire: Spire Servant

3900

85 (1214)

68

Child of Water

4800
102 (230) (BS)
65

Water: Minion of Darkness

5200

115 (242) (BS)

66

Water: Minion of Eternity

5300

116 (242) (BS)

66

Water: Ritual Summoning

5500

117 (245) (BS)

67

Water: Minion of Discord

5600

119 (245) (BS)

67

Water: Servant of Chaos

5700

121 (248) (BS)


68

Water: Spire Servant

6000

124 (248) (BS)

68

TSS Pets (71-75)
Est. HP
Max Hit
Level
Essence of Air
8800
131
70

Air: Minion of Darkness

9100

143

70

Air: Minion of Eternity

9500

147

70

Air: Ritual Summoning

9800

149

71

Air: Minion of Discord

10.2K

151

71

Air: Servant of Chaos

10.5K

157

72

Air: Spire Servant

11K

160

72

Air: Servitor of Scale

11.3K

164

73

Air:

Servant of Solusek/EM 1

12K

169

73

Essence of Earth
10.9K
124
70

Earth: Minion of Darkness

11.4K

135

70

Earth: Minion of Eternity

11.9K

137

70

Earth: Ritual Summoning

12.3K

139

71

Earth: Minion of Discord

12.9K

141

71

Earth: Servant of Chaos

13.2K

144

72

Earth: Spire Servant

13.9K

147

72

Earth: Servitor of Scale

14.1K

151

73

Earth:

Servant of Solusek/EM 1

15.1K

156

73

Essence of Fire
5150
84 (2091)
70

Fire: Minion of Darkness

5400

91 (2158)

70

Fire: Minion of Eternity

5600

93 (2158)

70

Fire: Ritual Summoning

5800

95 (2235)

71

Fire: Minion of Discord

6000

97 (2235)

71

Fire: Servant of Chaos

6200

100 (2312)

72

Fire: Spire Servant

6500

103 (2312)

72

Fire: Servitor of Scale

6700

107 (2322)

73

Fire: Servant of Solusek/EM 1

7100

110 (2389) (104)


73

Essence of Water
7400
123 (464) (BS)
70

Water: Minion of Darkness

7700

135 (464) (BS)

70

Water: Minion of Eternity

8000

137 (464) (BS)

70

Water: Ritual Summoning

8300

139 (470) (BS)

71

Water: Minion of Discord

8600

141  (470) (BS)

71

Water: Servant of Chaos

8900

144 (476) (BS)


72

Water: Spire Servant

9300

147 (476) (BS)

72

Water: Servitor of Scale

9500

154 (482) (BS)

73

Water: Servant of Solusek/EM 1

10,200

159 (482) (BS)

73