Our goal as a Monk in Kunark is to have:
1) Monk 1.0 Epic
2) 41% Haste (Waist is most realistic option)
3) Strength/Dexterity/Stamina/AC/HP as high as possible. You may favor a particular stat. Different options are provided in many slots.
4) 250 Range Item for pulling
5) You may also want to pick up resist gear to swap for raiding/pulling. Most major options are included in this guide.
Below are stats you can expect with the gear below. Your results will vary depending on which items you choose, your race, and starting stats. This profile is showing options with melee stats.
If I missed a better item in any slot, feel free to let me know in Discord.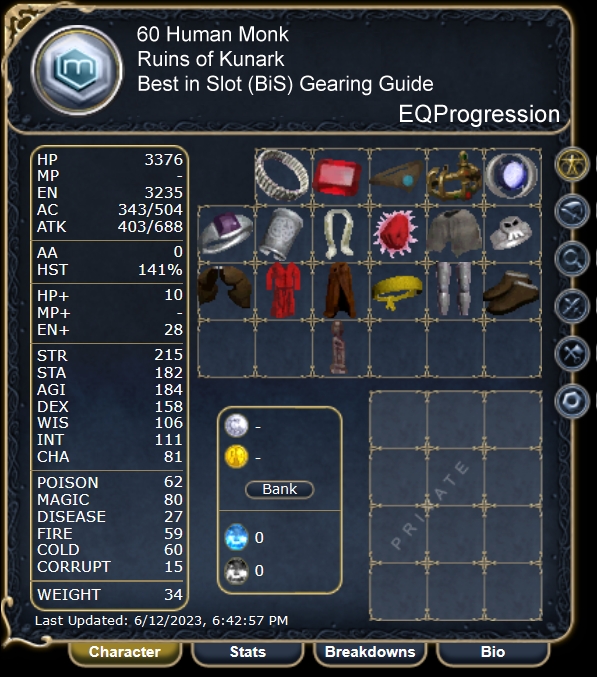 Slot
Item
Drop Location
Primary


Celestial Fists




BiS: Celestial Fists – 23/26 Ratio at 60. Wear no weapons with this option.

Monk 1.0 Epic

Secondary


Celestial Fists




BiS: Celestial Fists – 23/26 Ratio at 60. Wear no weapons with this option.

Monk 1.0 Epic

Ears


Fingerbone Hoop




Stats/See Invis Option

Sarnak Earring of Station
Strength Option

Pearly Sarnak Bauble
HP Option

Blue Diamond Electrum Earring
Resist Option (Can wear 2)

Howling Stones: Embalming Fluid





Drops from sarnak's in multiple zones



Chardok: Arch Inspector Nibi`zi



Jewelcrafting

Neck

Pulsating Gem




Option 1

Necklace of Superiority
Option 2

Veehan's Peak 1.0: Nexona





Howling Stones: Drusella Sathir (Kunark Era)

Face
Ton Po's Eye Patch


BiS: Stats/See Invis

Golden Diamond Mask
Resist Option

PoSky Monk Quest




Jewelcrafting

Head

Crown of Rile




BiS (Contested)

Executioners Hood




Stat Option

Crown of King Tranix




Magic Resist Option

Crown of the Froglok Kings
Fire/Cold Resist Option

Veeshan's Peak: Phara Dar





Lower Guk: a ghoul executioner



SolB: King Tranix



Lower Guk: the froglok king


Fingers

Regal Band of Bathezid


BiS

Djarn's Amethyst Ring
BiS

Platinum Diamond Wedding Ring
Resist Option (Can wear 2)

Chardok Quest





SolB: Djarn's Amethyst Ring



Jewelcrafting

Wrists

Back Straps of Mastery




BiS

Shackle of Tynnonium




BiS

PoSky Monk Quest





Kunark Quest

Arms


Spirit Wracked Cord




BiS: +10 Attack

Chardok Quest/Chardok: Grand Lorekeeper Kino Shai`din(Rare Drop)

Hands

Celestial Fists




BiS: Monk 1.0 Epic. 23/26 Ratio. Wear no weapons for this ratio.

Monk 1.0 Epic

Shoulders

Sode of Empowerment




BiS

PoHate (pre-LDoN): Grandmaster R`Tal

Chest

Robe of the Lost Circle




BiS Overall Stats

Shiverback-Hide Jerkin
Alternate – Melee Stats


Brother Qwinn (South Karana)/Brother Zephyl (Rathe Mountains)/Monk Epic Quest

PoFear: a shiverback


Back

Siblisian Berserker Cloak




BiS

Shroud of Veeshan
Option 2 (Contested)


Hierophant's Cloak
Alternate


Cloak of Flames
Alternate


Old Sebilis: froglok trash Drop





Veeshan's Peak 1.0: Phara Dar



Old Sebilis: Hierophant Prime Grekal



Lord Nagafen, Talendor, Ixiblat Fer

Waist

Golden Sash of Tranquility




BiS + 41% Haste

PoSky Monk Quest

Legs

Golden Efreeti Greaves




Option 1: DEX (Heavy Item)

Gorilla Hide Leggings




Option 2: STR/DEX

PoSky: Noble Doljorn/the Hand of Veeshan/Overseer of Air





Toxxulia Forest: Lord Gongo

Feet

Grey Suede Boots




Option 1: 41% Haste

Shiverback-Hide Boots
Option 2

Veeshan's Peak 1.0: Hoshkar





PoFear: a shiverback

Ranged/Ammo

Idol of the Thorned




BiS Stats

Antonian Javelin


250 Range

Frontier Mountains: Chief RokGu





112 Blacksmithing