Our goal as a Monk will be to maximize DPS. With no level increase from Kunark, or AA's to obtain, Velious is mainly a raiding expansion.
It is not likely you'll get every item on this list within a normal Velious TLP cycle. Focus on Goals 1-4 below and you'll be in good shape.
Monk Goals:
1) Best in Slot Weapons.

Monk weapons in Velious are not as straight forward as most expansions due to the Monk 1.0 Epic. The Epic (Gloves) will give a 23/26 dmg/delay ratio at level 60 (make sure H2H Skill is maxed!) if you do not have a weapon equipped, but there are a few negatives to this:
1. You won't get a weapon "damage bonus" (Main-hand only? See note below)
2. You'll lose the base stats provided by weapons.
3. You'll lose damage from procs/proc augments.

The general community consensus seems to be to wear a BiS weapon in the main-hand, and leave your offhand with no weapon, while wearing the Epic Gloves. This is because your main-hand receives a weapon "damage bonus" and your off-hand does not (apparently). I have not tested this out or parsed anything personally so take this advice with a grain of salt.

Another thing to note is that lower delay weapons have a tendency to parse better vs mobs with Mitigation of the Mighty, and BiS Velious weapons (usually 18-19 delay) are much lower delay than the epic delay of 26. All of this should be considered when choosing your weapons. Personally, I would just wear BiS weapons in both slots but do whatever you think is best.
>>Monk Damage Table<<
2) 41% Worn Haste Item.

3) "Worn" +Attack items. In this guide those slots will be Belt, Face, Arms.

4) Strength/Dexterity/Stamina as high as possible. We won't be able to max Dexterity in this build.

5) After 1-4 (our core needs) are met we'll maximize our AC

Below are stats you can expect with the gear below. Your results will vary a bit depending on which items you choose, your race, and starting stats.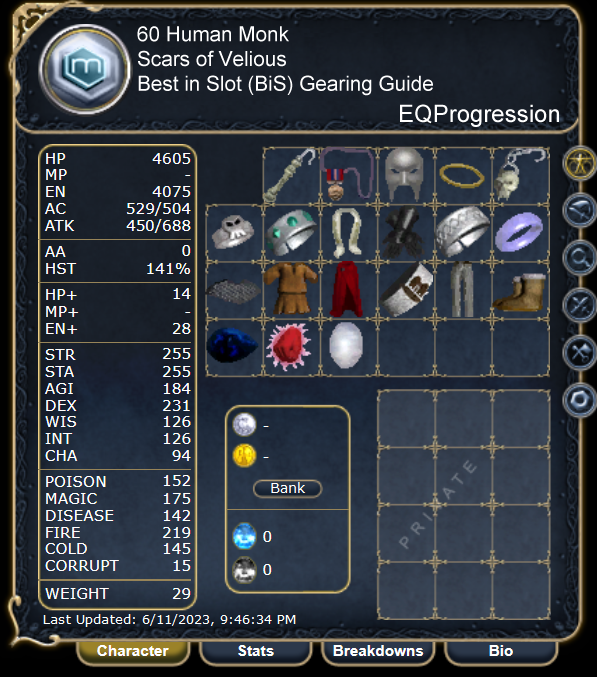 Slot
Item
Drop Location
Primary


Gharn's Rock of Smashing




BiS

Fist of Nature
Alternate: Procs root

Wurmscale Fistwraps
Alternate

Celestial Fists
Alternate: Gloves Slot – Epic 1.0. 23/26 Ratio at 60 (No "Damage Bonus") Wear no weapons with this option.

Temple of Veeshan: Vulak`Aerr





PoGrowth: Tunare



Temple of Veeshan: Cekenar



Monk 1.0 Epic



Secondary


Celestial Fists




Option 1: Gloves Slot – Epic 1.0. 23/26 Ratio at 60 (No "Damage Bonus") Wear no off-hand with this option.

Fist of Lightning
Option 2: 41% Haste

Monk 1.0 Epic







Temple of Veeshan: Eashen of the Sky

Ears


Vyrinn's Earring of Insanity




BiS

Earring of the Living Flame
BiS

Temple of Veeshan: Vulak`Aerr





Temple of Veeshan: Halls of Testing Quest

Neck

Valtron's Necklace of Wonder




BiS

Silver Charm of Tranquility
Alternate

Temple of Veeshan: Vulak`Aerr





Temple of Veeshan: Halls of Testing Quest

Face

Silver Mask of the Slayer




BiS: +10 Attack

Temple of Veeshan: Halls of Testing Quest

Head

Brother Xave's Headband




BiS: 41% Haste

Ebony Headband
Option 2

White Dragon Helm
Alternate

Temple of Veeshan: Vulak`Aerr





Temple of Veeshan: Lady Mirenilla



Skyshrine: Lord Yelinak Quest

Fingers

Crystasia's Crystal Ring


BiS

Ring of Destruction
BiS

Ring of Superiority
Alternate: Stat Option

Temple of Veeshan: Vulak`Aerr





Kael: Avatar of War



Temple of Veeshan: Various Mini Named Drakes

Wrists

Wrist Guard of Thunder




BiS: Dexterity Option

Silver Charm of Tranquility
BiS: Also Neck Alternate

Silver Bracelet of Speed
Option 2: 41% Haste

Kael: King Tormax





Temple of Veeshan: Halls of Testing Quest



Temple of Veeshan: Halls of Testing Quest

Arms


Spirit Wracked Cord




BiS: +10 Attack

Chardok Quest/Chardok: Grand Lorekeeper Kino Shai`din(Rare Drop)

Hands

Do`Vassir's Gauntlets of Might




BiS Stats

Celestial Fists
Option 2: Monk 1.0 Epic. 23/26 Ratio. No "damage bonus". Wear no weapons for this ratio.

Temple of Veeshan: Vulak`Aerr






Monk 1.0 Epic

Shoulders

Pauldrons of the Deep Flame




BiS

Wurm Claw Pauldrons
Alternate

Temple of Veeshan: Halls of Testing Quest





Temple of Veeshan: Dagarn the Destroyer

Chest

Shroud of Longevity




BiS (Rare)

Ancient Wyvern Hide Tunic
BiS (Realistic)

White Lotus Chest Wraps
Alternate

Sleeper's Tomb 1.0: Ventani the Warder





Temple of Veeshan: Ikatiar the Venom



Velious Class Quest (Skyshrine)


Back

Cloak of the Fire Storm




BiS

Cloak of the Falling Stars
Option 2

Net of the Deep Sea
Alternate

Cloak of the Sky
Alternate

Temple of Veeshan: Halls of Testing Quest





Kael: The Statue of Rallos Zek



Temple of Veeshan: Lord Koi`Doken



Temple of Veeshan: Eashen of the Sky



Waist

Belt of Dwarf Slaying




BiS: +10 Attack

King Tormax Quest



Legs

Flayed Barbarian Skin Leggings




BiS

Kael: Avatar of War

Feet

Boots of the Destroyer




Option 1

Boots of Superiority
Option 2 (5 Weight)

Temple of Veeshan: Dagarn the Destroyer





Temple of Veeshan: Lendiniara the Keeper

Ranged

Silver Disk




Temple of Veeshan: Lord Kreizenn