Our goal as a Necromancer in Classic will be to get the highest overall HP/Mana possible. This will be done via HP/Mana/Intellect/Stamina. Necromancers benefit from both Mana and HP quite a bit due to:
1) Casting Spells (duh)
2) Lich (Increased Mana regen rate at the cost of HP over time)
3) Lifetap/HP DoT's (Provides HP at the cost of Mana)
The situation you're in will determine how much HP is useful to you.

For example: If you have someone healing you, or you have cleric buffs, then HP on gear will mean less than if you are soloing without buffs.
I'll include a variety of options where applicable.
Below are approximate stats you can expect with the gear below. Your results will vary a bit depending on which items you choose, your race, and starting stats.
If I missed a better item in any slot, feel free to let me know in Discord.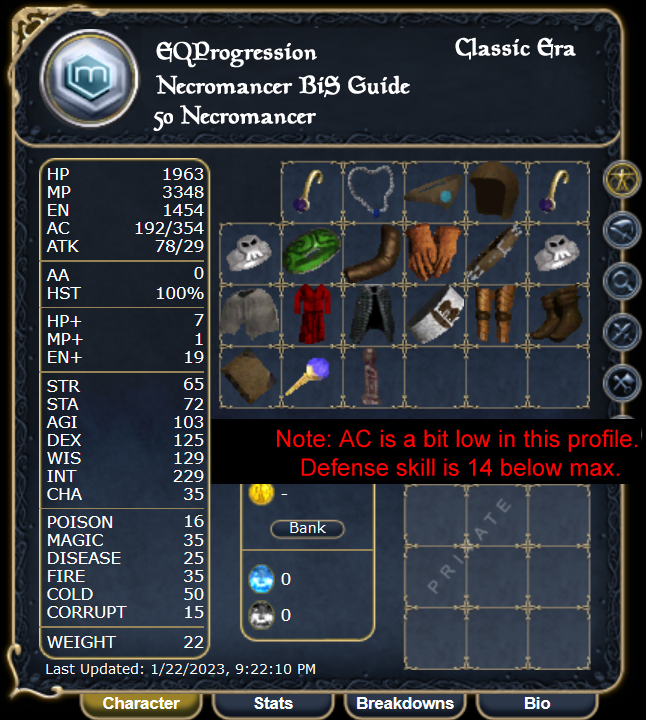 Slot
Item
Drop Location
Primary


Tome of Miragul




BiS

The Hole: Dartain the Lost

Secondary


Rokyls Channelling Crystal




Option 1

Cryosilk Webshield
Option 2


SolB: Magus Rokyl

PoFear: a spinechiller spider

Ears


Golden Black Sapphire Earring




BiS (Can wear 2)

Ivandyr's Hoop
Alternate

Batskull Earring
Alternate (Can wear 2)


Jewelcrafting

Innothule Swamp: Lynuga Quest

West Karana: an ogre priestess/shamaness, Chief Goonda

Neck

Black Sapphire Platinum Necklace




Option 1 (HP/Mana)

Sphinx Heart Amulet
Option 2 (Mana/Intellect)

Jewelcrafting

PoSky Necromancer Quest

Face

Torbin's Mystical Eyepatch




BiS




Darkbrood Mask
Dark Elf BiS


Lady Vox

PoHate: Innoruuk

Head

Blighted Skullcap




Option 1




Cryosilk Cap
Option 2


Platinum Tiara
Option 3


Runed Cowl
Alternate


PoFear: a boogeyman

PoFear: a spinechiller spider

Lower Guk: a froglok tactician

Lower Guk: a ghoul sage

Fingers

Band of Wailing Winds


BiS

Platinum Skull Ring
HP/Mana Option (Can wear 2)

Moonstone Ring
Mana Option(Can wear 2)

Engineer's Ring
Gnome BiS

Djarn's Amethyst Ring
HP Option

Platinum Fire Wedding Ring
HP Option 2

PoSky Necromancer Quest




Castle Mistmoore: Lasna Cheroon


Lower Guk: a frenzied ghoul


PoHate: Innoruuk


SoLB: Efreeti Lord Djarn


Jewelcrafting

Wrists

Bracelet of Cessation




BiS

Loam Encrusted Bracelet
Option 2 (Can wear 2)


Bracelet of Woven Grass
Option 3 (Can wear 2)


Golden Chitin Bracer
Alternate (Can wear 2)

Ring of the Ancients
Alternate

PoSky: Various mobs




The Hole: muck covered elemental/an elemental warrior (unconfirmed)


Upper Guk: a froglok scryer


SolB: a noxious spider


Ocean of Tears: an ancient cyclops

Arms


Blighted Sleeves




BiS

Cryosilk Sleeves
Alternate


PoFear: a boogeyman

PoFear: a spinechiller spider


Hands

Slime Blood of Cazic-Thule




BiS Overall stats (and used in Necro Epic)

Blighted Gloves
Alternate

Cryosilk Gloves
Alternate

White Satin Gloves
Alternate

Impskin Gloves
Alternate

PoFear: Cazic-Thule (pre-revamp)

PoFear: a frightfinger

PoFear: a spinechiller spider

PoSky: Various Trash Mobs

SolA: Kindle


Shoulders

Bloodsoaked Raiment




BiS

Squallsurge Shawl
Alternate

PoSky Necromancer Quest

Kedge Keep: Undertow

Chest

Crimson Robe of Alendine




BiS

Blighted Robe
Option 2


Cryosilk Robe
Option 3


Loam Encrusted Robe
Option 4


PoFear: Cazic-Thule/a dracoliche

PoFear: a boogeyman

PoFear: a spinechiller spider

The Hole: Master Yael, a flighty fiend?


Back

White Dragonscale Cloak




Option 1 (Mana/Intellect)




Cloak of Spiroc Feathers
Option 2 (Mana/Intellect/Stamina)


Lady Vox (Quest)


PoSky Necromancer Quest


Waist

Bone-Clasped Girdle




BiS

Brell's Girdle
Alternate

PoFear 1.0 (pre-revamp): a dracoliche

The Hole: Master Yael


Legs

Loam Encrusted Pantaloons




BiS

Cryosilk Pantaloons
Alternate


Black Chitin Leggings
Alternate


The Hole: an elemental monstrosity / an elemental warrior, Stonegrinder Minion (unconfirmed)

PoFear: a spinechiller spider / PoHate: a haunted chest

SoLB: death beetle

Feet

Golden Efreeti Boots




BiS

ShadowBound Boots
Alternate

SolB: Efreeti Lord Djarn

Temple of Solusek Ro Quest

Ranged

Idol of the Underking




HP/Mana Option




Dagger of Marnek
Mana/Intellect Option


The Hole: Master Yael

Befallen: the thaumaturgist