Packmaster Skoiat Pizak + Zun`Muram Votal
Raid Guide
Gates of Discord: Ferubi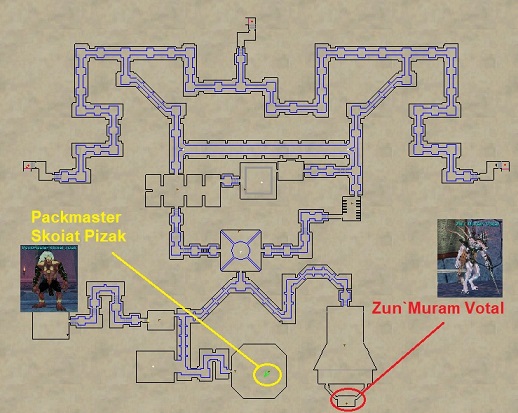 Packmaster Skoiat Pizak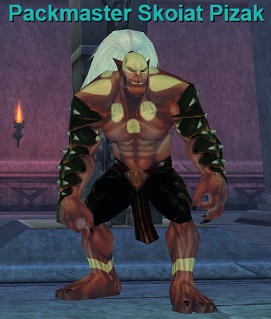 Have curse cure ready for this guy to dispel the healing debuff. He spawns some adds periodically during the fight (Rav Pizak). They are mezzable. They typically spawn in packs of 2-5. You'll see the following emote when he summons them:

The adds can proc a slow that can be cursed with Disease Cure.
Packmaster Skoiat Pizak
– Estimated 750K HP
– Hits 1400+ (35 Heroic Stamina)
– Slowable
– AE Rampage
– Casts Packmaster's Curse (NPC Hatelist, -0% – 20% spell damage, 800 HP DoT, -80% Healing, -180 AC, -350 Chromatic Based, 16 Curse cure)
– Casts Chaos Claws (Single Target, minor DoT, -150 Chromatic Based, 9 poison counter)
Rav Pizak (adds)

– 66K HP
– Hits 1100+ (35 Heroic Stamina)
– Mezzable
– Slowable
– Casts Diseased Maw (Single Target, -30% Attack speed,  -200 ATK, -300 Disease Based, 72 Disease Counter)
– Casts Rav's Claw (Single Target, 1000 DD, -100 DoT, -300 Poison Based, 72 Poison Counter)
Zun`Muram Votal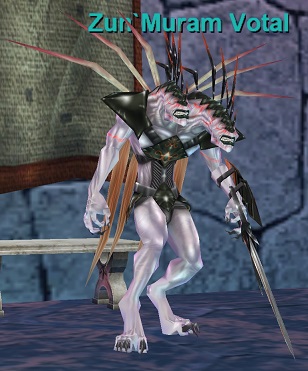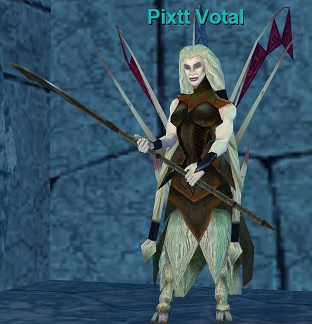 Zun`Muram Votal also has 2x Pixtt Votal guards in his room. They can be killed off before killing Zun`Muram Votal. The adds cast a PBAE -50% spell haste that can be curse cured.

Zun`Muram Votal
– 1 Million HP
– Hits 1400+ (35 Heroic Stamina)
– AE Rampage
– Slowable
– Casts Touch of the Muramite (Single Target, 4000 DD, -300 Chromatic Based)
Pixtt Votal (guards)

– 150K HP
– Hits 1400+ (35 Heroic Stamina)
– Slowable
– Casts Grasp of Muram (Single Target, Snare, -20 Magic Based, 8 Curse Counter)
– Casts Chaos Affliction (PBAE, -50% Spell Haste, -200 ATK, 200 HP DoT, -350 Magic Based, 16 Curse Counter)