Stats in Classic are scarce. Ranger's have a wide variety of options. They are pretty good tanks in groups due to their high aggro. While versatile, they are pretty weak in most other areas of the game in Classic era. You can either stack melee stats, tank stats. or a mix of both. It's really a personal preference. Some slots have clear BiS, while others you can pick and choose which stat you want to go with. I would personally prefer to go with a more tanky route since our DPS will be generally poor in Classic regardless.
**You may also want to pick up resist gear to swap for raiding. A common way to get this is Jewelcrafting Gear (Ears, Neck, Rings, Face), Crown of the Froglok Kings (FR/CR – Helm), Crown of King Tranix (MR – Helm).**
Below are stats you can expect with the gear below. Your results will vary a bit depending on which items you choose, your race, and starting stats.
If I missed a better item in any slot, feel free to let me know in Discord.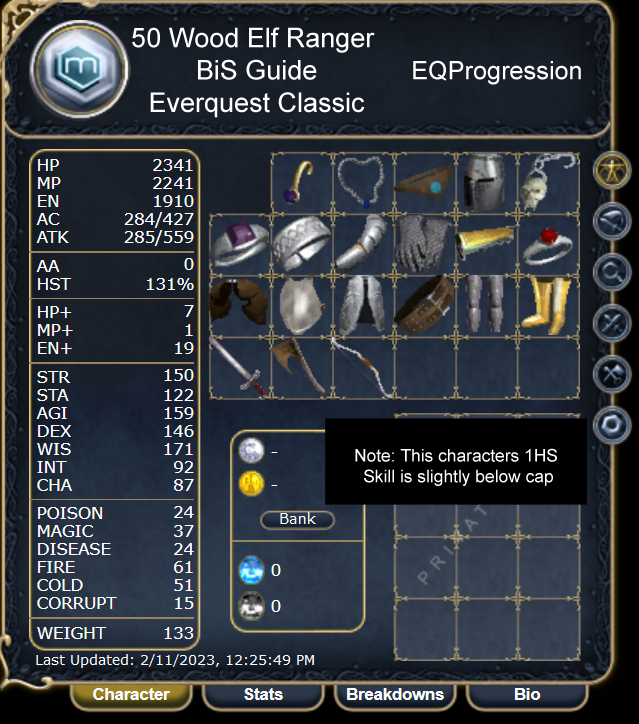 Slot
Item
Drop Location
Primary


Arydryidriyorn




BiS

PoSky Ranger Quest

Secondary


Serpent's Tooth




DPS Option




Fluxbladed Axe
Aggro Proc Option


Master Yael

PoFear: a shamhain

Ears


Thunderforged Earring




BiS

Diamondine Earring
AC/HP/Strength Option (Can wear 2)


Black Sapphire Electrum Earring
HP/Mana Option (Can wear 2)


PoSky Ranger Quest





Mistmoore Castle: Lasna Cheroon/Princess Cherista (unconfirmed)



Jewelcrafting

Neck

Griffin Talon Necklace




BiS (Balanced Stats)

Polished Mithril Torque
BiS (AC/Wisdom)

PoSky Ranger Quest





SolB: King Tranix

Face
Tobrin's Mystical Eyepatch


BiS (High Mana)



Lady Vox

Head

Hammerhead Helm




STR/STAM Option

Thorny Vine Helm


WIS/Mana Option

Kedge Keep: Caludronbubble





PoFear: a tentacle tormentor


Fingers

Djarn's Amethyst Ring


HP BiS

Platinum Fire Wedding Ring
HP BiS #2 (Can wear 2)

SolB: Efreeti Lord Djarn





Jewelcrafting

Wrists

Thorny Vine Bracer




Stam/Wisdom Option (Can wear 2)

Hero Bracers
STR Option


Hotof's Bracer
Wood Elf BiS

PoFear: a tentacle tormentor





Quest



PoHate: Innoruuk

Arms


Golden Efreeti Vambraces




BiS

PoSky: Noble Doljorn/the Hand of Veeshan/Overseer of Air

Hands

Slime Blood of Cazic-Thule




BiS (but used in Necro Epic)

Gauntlets of Fiery Might
Alternate

Thorny Vine Gauntlets
Alternate

PoFear: Cazic-Thule (pre-revamp)





SolB: Lord Nagafen, Kunark Dragons



PoFear: a tentacle tormentor


Shoulders

Earthshaker's Mantle




BiS

PoSky Ranger Quest

Chest

Thorny Vine Chestplate




BiS

PoFear: a tentacle tormentor

Back

Dark Cloak of the Sky




BiS + Spell Haste




Cloak of Flames
Dexterity + 36% Haste Option


Shield of the Immaculate
AC/Strength Option


PoSky Ranger Quest





Lord Nagafen (Classic), Talendor/Ixiblat Fer (Kunark)


PoHate: Lord of Ire, PoHate (LDoN revamp): an eerie chest

Waist

Runed Bolster Belt




+ 31% Haste Option

Brell's Girdle
Alternate

Lady Vox (Classic), Kunark Dragons





The Hole: Master Yael


Legs

Thorny Vine Greaves




AC/WIS Option

Golden Efreeti Greaves
AC/DEX/AGI Option


Mithril Greaves
Alternate

PoFear: a tentacle tormentor





PoSky: Noble Doljorn/the Hand of Veeshan/Overseer of Air



SolB: Warlord Skarlon/fire giants

Feet

Thorny Vine Boots




BiS

PoFear: a tentacle tormentor

Ranged

Windstriker




BiS




Bow of the Underfoot
Alternate


PoSky Ranger Quest

The Hole: a massive construction/a rock golem trash