Our goal as a Ranger will be to maximize DPS. We will easily max out both STR and DEX via gear. We will focus on getting +250 worn attack for this expansion. In this guide we have an option to sacrifice 10 Attack in our Feet, which will allow us to pick up +1-20% Detrimental Mana Preservation in that slot. Ranger Bow Damage also picks up a lot in Shadows of Luclin due to AA so we'll want a good bow and quiver.
Ranger Goals:
1) Best in Slot Weapons. See 4/19/23 patch notes that state: "Updated NPC resistance checks against elemental weapon damage to apply full damage if the NPC is not immune to the resist type". This means elemental damage on weapons is more useful than it was in the past, which can potentially change our BiS weapon for our Primary slot (although I did not personally parse this).
2) 41% Haste Item (Haste on Waist is preferred here to minimize our worn +Attack loss while picking up +1-20% Detrimental Mana Preservation on our Feet.) Some decent alternate Haste slots are: Feet if you're not using Mana Preservation in that slot, or Silver Bracelet of Speed in Wrist slot. Other Haste options are available but you'll lose more than +10 Attack in any other slot.
3) BiS Bow and Quiver
4) +240 "Worn" Attack (250 is max).
5) Maxing Strength/Dexterity/Stamina
6) +6 Heroic Strength (from Necklace)

7) As much Mana Regen as possible (varies between either 8 or 12 in this guide – See Neck and Off-Hand)

Below are the approximate stats you can expect:
This character doesn't have any +stat AA clickies (Mana/HP/Regen/Resists, etc) clicked, so if you have any of those add them onto this profile to estimate your stats.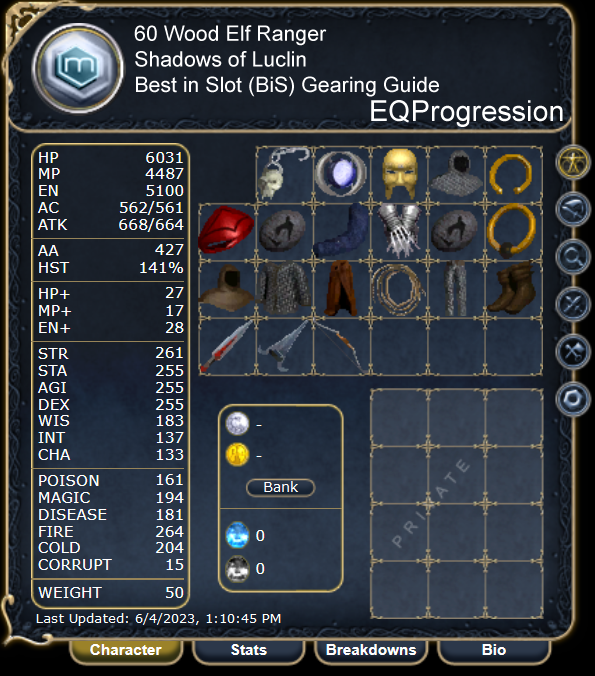 Slot
Item
Drop Location
Primary


Vyzh`dra's Render of Souls




BiS (If NPC not Immune to Disease)

Acrylia Handled Broadsword
BiS Ratio (Other)

Ssraeshza Temple: Vyzh`dra the Cursed





Ssraeshza Temple: Emperor Ssraeshza

Secondary


Acrylia Handled Broadsword




BiS Melee Ratio (If using Vyzh`dra's Render of Souls in mainhand)

Swiftwind
BiS Archery Min-Max Option (Use with Eye of the Frenzied Owl Bear (Face) for additional +Archery Mod)

Claw of Vyzh`dra
Alternate (+4 Mana Regen)

Twisted Longsword of Pain
Alternate

Ssraeshza Temple: Emperor Ssraeshza







Ranger 1.0 Epic



Ssraeshza Temple: Vyzh`dra the Cursed



Acrylia Caverns: Khati Sha the Twisted

Quiver


Fleeting Quiver




BiS: 20% Bow Haste

Tailoring Combine

Ears


Earring of Eradication




BiS – Lore

Earring of Falling Stars
BiS – Not Lore

Earring of Battle
Alternate – Not Lore

Hoop of Chaos
Alternate – Not Lore

Vex Thal: Aten Ha Ra





Vex Thal: Thall Va Kelun



Vex Thal: Va Xi Aten Ha Ra



Vex Thal: Thall Xundraux Diabo

Neck

Talisman of Vah Kerrath




BiS (+8 Mana Regen)

Vex Thal: Aten Ha Ra Quest

Face
Crimson Runed Mask


BiS Overall Stats

Eye of the Frenzied Owlbear
BiS Archery Min-Max (Use with Swiftwind Offhand)

Vex Thal: Aten Ha Ra





Hollowshade Moor: Hollowshade War Event (Skriat`Chet)


Head

Thorny Chain Helm




BiS

Vex Thal: Kaas Thox Xi Aten Ha Ra (North Blob)

Fingers

Ring of Rage


Option 1 (Can wear 2)

Hoop of Chaos
Option 2 (Can wear 2)


Vex Thal: Thall Va Xakra





Vex Thal: Thall Xundraux Diabo

Wrists

Cloudy Mark




BiS (Can wear 2)




Vex Thal: Va Xi Aten Ha Ra

Arms


Armguard of Shadows




BiS

Vex Thal: Aten Ha Ra

Hands

Sanguine Gloves




BiS

Vex Thal: Thall Va Kelun

Shoulders

Spiked Shoulderpads




BiS

Vex Thal: Kaas Thox Xi Aten Ha Ra (South Blob)

Chest

Vengeful Mail of the Void




BiS

Ssraeshza Temple: Vyzh`dra the Cursed

Back

Cloak of Destruction




Option 1

Great Cloak of Shadows
Option 2

Vex Thal: Diabo Xi Xin

Vex Thal: Thall Xundraux Diabo

Waist

Cord of Midnight




Option 1: 41% Haste

Feeliux's Cord of Velocity
Alternate: 41% Haste

Vex Thal: Thall Va Xakra, also Eom Thall/Eom Zethon (Unconfirmed)





Temple of Veeshan: Vulak`Aerr

Legs

Spiked Chain Leggings




BiS



Vex Thal: Kaas Thox Xi Aten Ha Ra (South Blob)

Feet

Boots of the Wind




Option 1: 1-20% Detrimental Mana Preservation

Sandals of Contemplation
Option 2: +10 Attack

Vex Thal: Thall Xundraux Diabo





Vex Thal: Kaas Thox Xi Ans Dyek

Ranged

Bow of Shadows




Option 1

Bow of Flames
Option 2

Vex Thal: Thall Xundraux Diabo





Vex Thal: Thall Xundraux Diabo