Stats in Classic are scarce. Our goal as a Rogue will be to maximize DPS:
1) Best in Slot Weapons
2) 41% Haste
3) Strength/Dexterity as high as possible. You may favor one stat over the other, but for this guide our goal will be to get the highest amount of stats possible, whether it's Strength or Dexterity. Also notice that the proc from your primary weapon, Thornstinger, grants additional strength.
4) **You may also want to pick up resist gear to swap for raiding. A common way to get this is Jewelcrafting Gear (Ears, Neck, Rings, Face), Crown of the Froglok Kings (FR/CR – Helm), Crown of King Tranix (MR – Helm).**
Below are stats you can expect with the gear below. Your results will vary a bit depending on which items you choose, your race, and starting stats.
If I missed a better item in any slot, feel free to let me know in Discord.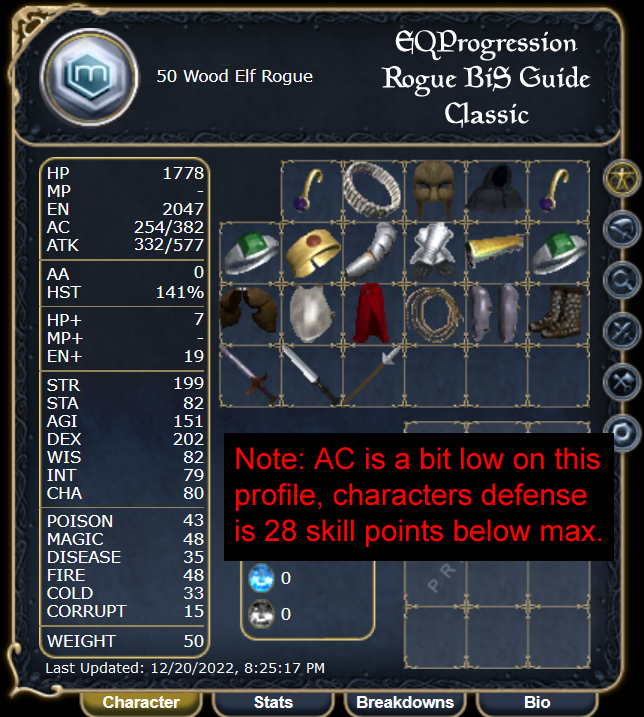 Slot
Item
Drop Location
Primary


Thornstinger




BiS

PoSky Rogue Quest

Secondary


Serpent's Tooth




Option 1




Vexthorne
Alternate


Master Yael





PoHate: Avatar of Abhorrence

Ears


Sapphire Electrum Earring




Strength Option 1 (Can wear 2)

Diamondine Earring
Strength Option 2 (Can wear 2)


Black Sapphire Electrum Earring
HP Option (Can wear 2)


Jewelcrafting





Mistmoore Castle: Lasna Cheroon/Princess Cherista (unconfirmed)



Jewelcrafting

Neck

Wispy Choker of Vigor




BiS

PoSky Rogue Quest

Face
Crystal Mask


BiS



PoSky Rogue Quest

Head

Executioners Hood

Lower Guk: a ghoul executioner

Fingers

Fire Emerald Platinum Ring


Can wear 2

Engineer's Ring
Gnome BiS

Jewelcrafting





PoHate: Innoruuk

Wrists

Shimmering Bracer of Protection




BiS

Hero Bracers
Alternate


Fire Emerald Golden Bracelet
Alternate (Can wear 2)


PoSky Rogue Quest





Quest



Jewelcrafting

Arms


Golden Efreeti Vambraces




BiS

Woven Shadow Vambraces
Alternate


PoSky: Noble Doljorn/the Hand of Veeshan/Overseer of Air





PoHate: an abhorrent – Planar Set

Hands

Gauntlets of Fiery Might




BiS

Woven Shadow Gauntlets
Alternate

Lord Nagafen (Classic), Kunark Dragons (Kunark+)





PoHate: an abhorrent – Planar Set

Shoulders

Griffon Wing Spaulders




BiS

PoSky Rogue Quest

Chest

Woven Shadow Chestplate




BiS

Red Dragonscale Armor
Alternate


PoHate: an abhorrent – Planar Set

Red Dragon Scales Quest


Back

Cloak of Flames




Dexterity + 36% Haste Option




Cloak of Shadows
Dexterity Option Alternate


Shield of the Immaculate
Strength Option


Lord Nagafen (Classic), Talendor/Ixiblat Fer (Kunark)

SolB: a guano harvester

PoHate: Lord of Ire, PoHate (LDoN revamp): an eerie chest

Waist

Renard's Belt of Quickness




BiS + 41% Haste

Runed Bolster Belt
Alternate + 31% Haste

PoSky Rogue Quest





Lady Vox (Classic), Kunark Dragons


Legs

Mithril Greaves




Strength Option

Golden Efreeti Greaves
Dexterity Option


Gorilla Hide Leggings
STR/DEX Option


SolB: Fire Giant type-mobs





PoSky: Noble Doljorn/the Hand of Veeshan/Overseer of Air



Toxxulia Forest: Lord Gongo

Feet

Dwarven Work Boots




Option 1

Woven Shadow Boots
Option 2


Unrest: Garanel Rucksif





PoHate: an abhorrent – Planar Set


Ranged

Shrieking Ahlspiess




BiS




Bow of the Underfoot
Alternate


PoFear: Various Trash





The Hole: a massive construction/a rock golem trash