Our goal as a Rogue will be to maximize DPS. Some items that were BiS in Classic are still BiS (or close to it) in Ruins of Kunark.
We will focus on:
1) Best in Slot Weapons

2) 40% Haste, we'll get this from our 1.0 Epic. Other slots offer haste as well but having the 1.0 Epic is the highest priority item for Rogues in Ruins of Kunark.

3) "Worn" +Attack items (1.0 Epic and Spirit Wracked Cord)

4) Strength/Dexterity as high as possible. You may favor one stat over the other, but for this guide our goal will be to get the highest amount of stats possible, whether it's Strength or Dexterity.

5) **You may also want to pick up resist gear to swap for raiding. A common way to get this is Jewelcrafting Gear (Ears, Neck, Rings, Face), Crown of the Froglok Kings (FR/CR – Helm), Crown of King Tranix (MR – Helm).**
Below are stats you can expect with the gear below. Your results will vary a bit depending on which items you choose, your race, and starting stats.
If I missed a better item in any slot, feel free to let me know in Discord.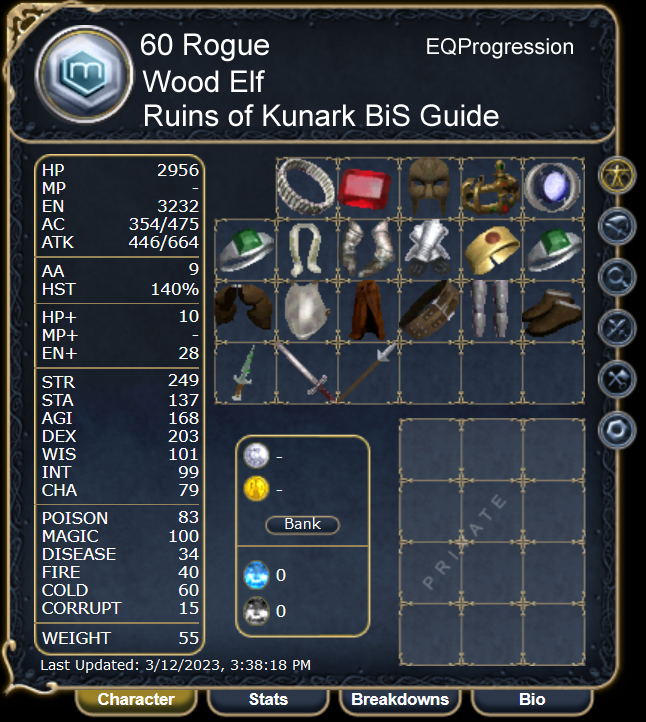 Slot
Item
Drop Location
Primary


Ragebringer




BiS + 40% Haste

Rogue 1.0 Epic

Secondary


Sword of the Shissar




BiS

Razor Fang of Xygoz
Alternate 1

Claw of Phara Dar
Alternate 2

Malevolent Runeblade
Alternate 3

Veeshan's Peak 1.0: Hoshkar





Veeshan's Peak 1.0: Xygoz



Veeshan's Peak 1.0: Phara Dar



Veeshan's Peak 1.0: Xygoz

Ears


Fingerbone Hoop




BiS

Sarnak Earring of Station
BiS


Howling Stones: Embalming Fluid





Drops from sarnak's in multiple zones

Neck

Pulsating Gem




Option 1

Wispy Choker of Vigor
Option 2

Necklace of Superiority
Option 3

Veehan's Peak 1.0: Nexona





PoSky Rogue Quest


Howling Stones: Drusella Sathir (Kunark Era)

Face

Crystal Mask




Option 1

Tribal War Mask
Option 2

PoSky Rogue Quest





Chardok: Di`zok sarnaks trash drop


Head

Crown of Rile




BiS (Contested)

Cap of the Insubstantial
DEX Alternate
Executioners Hood
Alternate

Veeshan's Peak: Phara Dar





Old Sebilis: Tolapumj



Lower Guk: a ghoul executioner


Fingers

Fire Emerald Platinum Ring


Can wear 2

Engineer's Ring
Gnome BiS

Jewelcrafting





PoHate: Innoruuk

Wrists

Shimmering Bracer of Protection




BiS

Spirit Wracked Cord
BiS

Dragon Hero Bracer
Alternate

Hero Bracers
Alternate

PoSky Rogue Quest





Chardok Quest/Chardok: Grand Lorekeeper Kino Shai`din(Rare Drop)



Gorenaire/Severilous/Talendor/Faydedar



Quest

Arms


Dark Scale Sleeves




Strength Option

Golden Efreeti Vambraces
Dexterity/Stamina Option

Woven Shadow Vambraces
Alternate


Chardok: a Wizened Herb Collector




PoSky: Noble Doljorn/the Hand of Veeshan/Overseer of Air



PoHate: an abhorrent – Planar Set

Hands

Gauntlets of Fiery Might




BiS

Woven Shadow Gauntlets
Alternate

Lord Nagafen (Classic), Kunark Dragons (Kunark+)





PoHate: an abhorrent – Planar Set

Shoulders

Poisoned Mantle




BiS

Griffon Wing Spaulders
Alternate

Old Sebilis: Trakanon





PoSky Rogue Quest

Chest

Mrylokar's Breastplate




BiS

Woven Shadow Chestplate
Alternate

Red Dragonscale Armor
Alternate


Old Sebilis: Trakanon





PoHate: an abhorrent – Planar Set



Red Dragon Scales Quest


Back

Siblisian Berserker Cloak




BiS

Shroud of Veeshan
Option 2 (Contested)


Hierophant's Cloak
Alternate


Cloak of Flames
Alternate


Old Sebilis: froglok trash Drop





Veeshan's Peak 1.0: Phara Dar



Old Sebilis: Hierophant Prime Grekal



Lord Nagafen, Talendor, Ixiblat Fer

Waist

Runed Bolster Belt




Option 1

Runebranded Girdle
Option 2

Renard's Belt of Quickness
Option 3

Silken Cat-Fur Girdle
Alternate – Stats

Gorenaire, Severilous, Lady Vox, Talendor, Faydedar




Old Sebilis: froglok krup enchanter/knight/shaman Kithicor Forest: Advisor C`zatl, Coercer Q`ioul


PoSky Rogue Quest


Trakanon's Teeth: Sigra


Legs

Mrylokar's Greaves




BiS

Karnor's Castle: Venril Sathir

Feet

Grey Suede Boots




BiS

Tribal War Boots
Alternate

Dwarven Work Boots
STR/DEX Alternate

Veeshan's Peak 1.0: Hoshkar





Chardok: Di'Zok sarnak mobs



Unrest: Garanel Rucksif

Ranged

Shrieking Ahlspiess




STR/DEX Option




Bow of the Underfoot
STR/DEX Alternate


Idol of the Thorned
STR/STAM Option


Sarnak Backstabber
STR/STAM Alternate


PoFear: Various Trash





The Hole: a massive construction/a rock golem trash



Frontier Mountains: Chief RokGus



Chardok: Overseer Dal`guur