For Shadow Knights in Ruins of Kunark we'll want to prioritize AC, then HP/Stamina, then Mana/Intellect. We should also pay attention to Agility for extra AC where applicable. We'll also want a haste item and optionally, a bow.
Below are stats you can expect with the gear below. Your results will vary depending on which items you choose, your race, and starting stats.
If I missed a better item in any slot, feel free to let me know in Discord.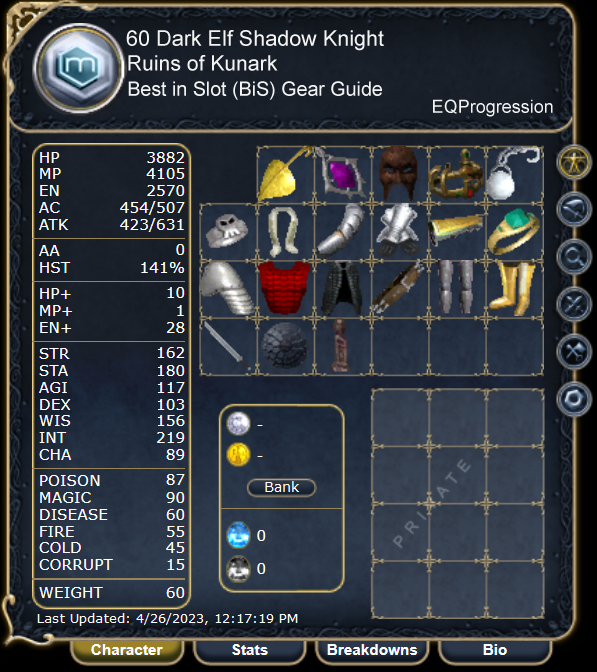 Slot
Item
Drop Location
Primary


Shard of Night




Option 1

Greenmist
Option 2

Ebon Mace
Alternate

Chardok: Queen Velazul Di`zok




 

Cabilis Quest
 

Old Sebilis: Brogg

Primary 2-Hand


Innoruuk's Curse




BiS

Shadow Knight 1.0 Epic

Secondary


Shield of Elders




BiS

Shield of the Dark
Alternate


Atramentous Shield
Alternate


Obtenebrate Mithril Guard
Alternate


Bladestopper
Alternate


Sarnak Battle Shield
Alternate


Ashenbone Shield
Alternate: Select Races

Veeshan's Peak: Phara Dar




 

Kunark Quest
 

City of Mist: Lord Rak`Ashiir
 

PoSky Shadow Knight Quest
 

SolB: Lord Nagafen
 

Chardok: "Sarnak/Skeleton" type mobs
 

Kithicor: General V`gheraan, PoHate: ashenbone drake

Ears


Yunnb's Earring




BiS

Pearly Sarnak Bauble
BiS


Veeshan's Peak: Phara Dar




 

Chardok: Arch Inspector Nibi`zi

Neck

Amulet of the Sphinx Eye




BiS

Necklace of Superiority
Alternate

PoSky Shadow Knight Quest




 

Howling Stones: Drusella Sathir (In Kunark Era)

Face
Enshrouded Veil


Option 1




Blood Sky Face Plate
Option 2


Darkbrood Mask
Dark Elf Option


Howling Stones: Embalming Fluid




 

PoSky Shadow Knight Quest
 

PoHate: Innoruuk


Head

Crown of Rile




BiS




Umbral Platemail Helm
Alternate


Veeshan's Peak: Phara Dar




 

PoFear: amygdalans

Fingers

Regal Band of Bathezid


BiS

Di'Zok Signet of Service
BiS

Chardok Quest




 

Chardok Quest
 

Wrists

Spirit Wracked Cord




BiS




Imperial Wardog Collar
Option 1


Blood Ember Bracer
Option 2


Dragon Hero Bracer
Option 3


Chardok Quest/Chardok: Grand Lorekeeper Kino Shai`din(Rare Drop)




 

Chardok: Deathfang
 

Old Sebilis: spectral commander/harbinger/revenant
 

Quest

Arms


Blood Ember Vambraces




Option 1

Golden Efreeti Vambraces
Option 2

Blazing Vambraces
Option 3

Old Sebilis: skeletal baron/champion/harbinger/warlord/revenant

PoSky: Noble Dojorn/Overseer of Air/the Hand of Veeshan

Skyfire Mountains: Zordakalicus Ragefire (Cleric Epic Mob)

Hands

Slime Blood of Cazic-Thule




Option 1 (but used in Necro Epic)

Umbral Platemail Gauntlets
Option 2

Gauntlets of Fiery Might
Option 3

Blazing Gauntlets of Fennin Ro
Option 4 (+10 ATK)

PoFear: Cazic-Thule (pre-revamp)




 

PoFear: amygdalans
 

SolB: Lord Nagafen, Kunark Dragons
 

Skyfire Mountains: Zordakalicus Ragefire (Cleric Epic Mob)

Shoulders

Chokidai Hide Spaulders




High HP Option

Pearlescent Pauldrons
High Mana Option

Obulus Death Shroud
Alternate

Poisoned Mantle
Select Races Only

Chardok: Deathfang




 

PoSky Shadow Knight Quest
 

Old Sebilis: various "frog" type mobs
 

Old Sebilis: Trakanon

Chest

Will of Innoruuk




BiS

Blood Ember Breastplate
Option 2

Incarnadine Breastplate
Option 3

Shadow Knight 1.0




 

Old Sebilis: Trakanon
 

Chardok: Overking Bathezid

Back

Shroud of Veeshan




BiS




Hierophant's Cloak
Alternate


Cloak of Flames
36% Haste Option


Veeshan's Peak: Phara Dar




 

Old Sebilis: Hierophant Prime Grekal
 

Lord Nagafen (Classic), Talendor/Ixiblat Fer (Kunark)

Waist

Pegasus-Hide Belt




BIS: 41% Haste

Runebranded Girdle
Alternate: 27% Haste

Runed Bolster Belt
Alternate: 31% Haste

Brell's Girdle
Alternate

Girdle of Flayed Iksar
Alternate

PoSky Paladin Quest







Old Sebilis: "froglok" drop Kithikor Forest: Advisor C`zatl/Coercer Q`ioul



Lady Vox (Classic), Kunark Dragons (Kunark)



The Hole: Master Yael



Chardok: Foreman Mirt`akk

Legs

Blood Ember Greaves




BiS




Incarnadine Legplates
Option 2


Karnor's Castle: Venril Sathir







Chardok: a Security Advisor

Feet

Umbral Platemail Boots




Option 1

Blood Ember Boots
Option 2

Grey Suede Boots
41% Haste Option

PoFear: amygdalans




 

Karnor's Castle: Knight of Sathir
 

Veeshan's Peak 1.0: Hoshkar

Ranged/Ammo

Idol of the Thorned




BiS




Sarnak War Bow
Bow Option


Frontier Mountains: Chief RokGus







Chardok: Drill Master Dih`roul