On TLP servers focus items aren't active until Shadows of Luclin so we aren't concerned about them for Ruins of Kunark. Some items in this list may have focuses, they just won't be active yet.
For Ruins of Kunark our main focus will be maximizing our Mana, Wisdom, HP, and AC. Getting "BiS" as shown in this profile means you'll be floating right around the 255 Wisdom cap.
Below are stats you can expect with the gear below. Your results will vary a bit depending on which items you choose, and your race/starting stats.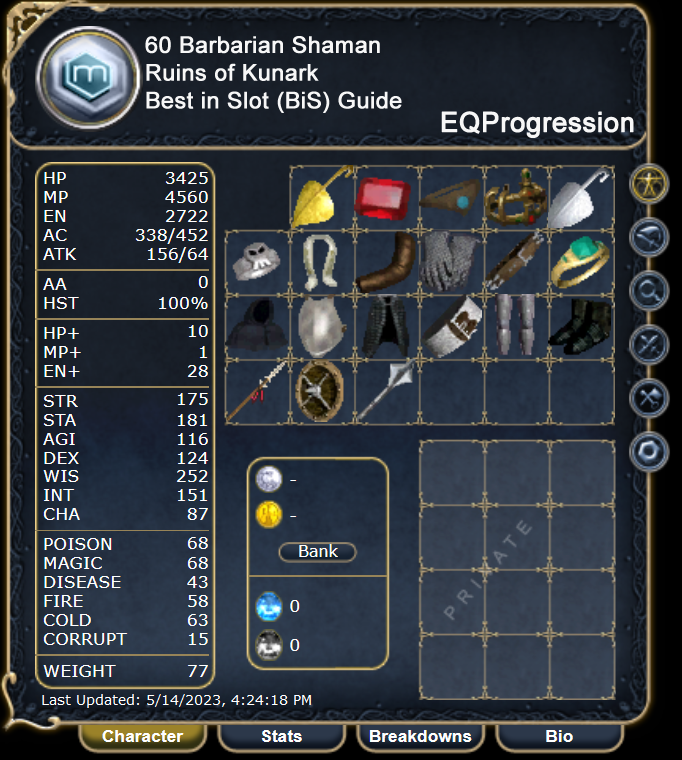 Slot
Item
Drop Location
Primary


Spear of Fate




BiS

Left Eye of Xygoz
Alternate

Shaman 1.0 Epic





Veeshan's Peak: Xygoz

Secondary


Defender of the Faithful Heart




Option 1




Bladestopper
Option 2


Sarnak Battle Shield
Option 3


Kunark Quest




 

SolB: Lord Nagafen
 

Chardok: "Sarnak/Skeleton" type mobs

Ears


Yunnb's Earring




BiS

Earring of Purity
Option 1

Earring of Cleansing
Option 2

Earring of Twisted Leaves
Option 3

Veeshan's Peak: Phara Dar





Chardok: An Iksar Trustee



Chardok: An Iksar Trustee



Chardok: Watch Captain Hir`roul

Neck

Pulsating Gem




+All Stat Option

Necklace of Superiority
+All Stat Option

Black Sapphire Platinum Necklace
Alternate

Veeshan's Peak: Nexona





Howling Stones: Drusella Sathir



Jewelcrafting

Face
Tobrin's Mystical Eyepatch


Wisdom Option + See Invis

Enshrouded Veil
Option 2

Tattered Flesh Veil
Option 3

Permafrost: Lady Vox





Howling Stones: Embalming Fluid



Chardok: Underboss Myli`ki

Head

Crown of Rile




BiS

Platinum Tiara
Alternate

Veeshan's Peak: Phara Dar





Lower Guk: a froglok tactician

Fingers

Regal Band of Bathezid


BiS




Di'Zok Signet of Service
BiS

Ring of Di`Zok
Alternate


Di`Zok Begirding
Alternate


Chardok Quest





Chardok Quest



Chardok: a Alchemist`s Acolyte



Chardok: Di`Zok-type mob drop

Wrists

Spirit Wracked Cord




BiS

Bracelet of the Spirits
BiS

Supple Scale Armband
Alternate

Chardok: Quest/Grand Lorekeeper Kino Shai`din





PoSky: Shaman Quest



Karnor's Castle: a drolvarg warlord

Arms


Withered Leather Sleeves




Option 1

Embroidered Black Sleeves
Option 2

Scaled Hierophant Vambraces
Iksar Only

The Hole: a revenant, a wanderer. Urwenae the Cold?





Lower Guk: a ghoul ritualist



PoHate: a spite golem

Hands

Slime Blood of Cazic-Thule




BiS (but used in Necro Epic)

White Satin Gloves
Realistic

Withered Leather Gloves
Mana Option

Scaled Hierophant Gauntlets
Iksar BiS

PoFear: Cazic-Thule (pre-revamp)





PoSky: various bosses/trash



The Hole: Niltoth the Unholy?



PoHate: a spite golem

Shoulders

Obulus Death Shroud




BiS

Chokidai Hide Pauldrons
HP BiS

Fancy Velvet Mantle
Alternate

Obulus Mantle
Alternate

Jade Inlaid Spaulders
Alternate

Old Sebilis: various Froglok-type mobs





Chardok: Deathfang



Chardok: Observer Aq`touz



Old Sebilis: crypt caretaker



Chardok: Watch Captain Hir`roul

Chest

Robe of the Azure Sky




BiS (Contested)

Jaundiced Bone Breastplate
Option 2 (Non-Iksar)

Scaled Hierophant Breastplate
Iksar Only

Fungus Covered Scale Tunic
+15 Regen Alternate

Veeshan's Peak: Phara Dar





Old Sebilis: Trakanon



PoHate: a spite golem



Old Sebilis: myconid spore king

Back

Shroud of Veeshan




BiS

Hierophant's Cloak
Alternate

White Dragonscale Cloak
Alternate

Veeshan's Peak: Phara Dar





Old Sebilis: Hierophant Prime Grekal



Quest (Lady Vox/Gorenaire Drop)


Waist

Bone-Clasped Girdle




BiS

Girdle of Rapidity
Alternate 2

Brell's Girdle
Alternate 3

PoFear: a dracoliche (pre-revamp)





Chardok: Sarnak Collective Auditor



The Hole: Master Yael (pre-revamp)


Legs

Jaundiced Bone Greaves




BiS (Non-Iksar)

Scaled Hierophant Greaves
BiS (Iksar)

Karnor's Castle: Venril Sathir





PoHate: a spite golem

Feet

Sarnak Hide Boots




Option 1

Tribal War Boots
Option 2

Withered Leather Boots
Alternate

Chardok: Watch Sergeant Riz`oul





Chardok: Sarnak type mobs



The Hole: Ulrik the Devout

Ranged

Skyiron Cudgel of the Ancients




BiS

Spear of Constriction
Option 2

Sarnak Prayer Beads
Alternate 1

Bronze Statue of Bathezid
Alternate 2

Iksar Hide Manual
Alternate 3

Vile Sarnak Brew
Alternate 4

Idol of the Underking
Alternate 5

Shaman Skull Quest #8





Veeshan's Peak: Xygoz



Chardok: Foreman Ku`lul



Chardok: Captain Di`ouz



Chardok: Sarnak Collective Auditor



Chardok: an Alchemist`s Acolyte



The Hole: Master Yael (pre-revamp)