For Warriors in Classic we'll want to prioritize AC, then HP/Stamina. We should also pay attention to Agility for extra AC where applicable. We'll also want a haste item and a bow. You can also alternatively use resist gear when needed.
Below are stats you can expect with the gear below. Your results will vary depending on which items you choose, your race, and starting stats.
If I missed a better item in any slot, feel free to let me know in Discord.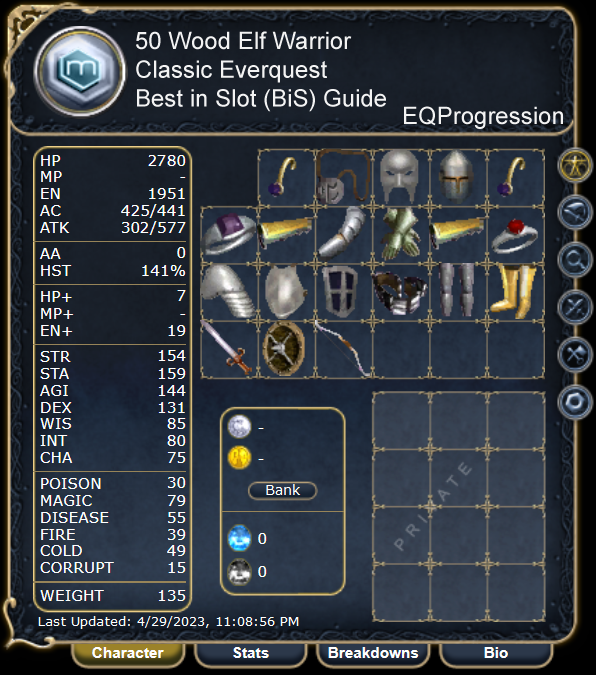 Slot
Item
Drop Location
Primary


Dagas




BiS

PoSky: Warrior Test of Smash

Secondary


Blood Fire




Option 1

Short Sword of the Ykesha
Option 2

PoFear: Golems





Lower Guk: the ghoul lord

Shield


Bladestopper




BiS

SolB: Lord Nagafen

Ears

Black Sapphire Electrum Earring




BiS

Black Sapphire Electrum Earring
BiS

Jewelcrafting





Jewelcrafting

Neck

Runed Wind Amulet




BiS

PoSky: Warrior Test of Strength

Face

Fine Plate Visor




BiS

Darkbrood Mask
Dark Elf Option

Blacksmithing





PoHate: Innoruuk

Head

Skull-Shaped Barbute




Option 1

Indicolite Helm
Option 2

Lower Guk: the ghoul lord





PoHate: a kiraikuei

Fingers

Djarn's Amethyst Ring




BiS

Platinum Fire Wedding Ring
BiS

Engineer's Ring
Gnome Option

SoLB: Efreeti Lord Djarn





Jewelcrafting



PoHate: Innoruuk

Wrist

Indicolite Bracer




BiS

Indicolite Bracer
BiS

Hotof's Bracer
Wood Elf Option

PoHate: a kiraikuei





PoHate: a kiraikuei



PoHate: Innoruuk

Arms

Indicolite Vambraces




Option 1

Golden Efreeti Vambraces
Option 2

PoHate: a kiraikuei





PoSky: Noble Dojorn/Overseer of Air/the Hand of Veeshan

Hands

Indicolite Gauntlets




BiS

PoHate: a kiraikuei / PoFear: a phoboplasm

Shoulders

Pauldrons of the Blue Sky




BiS

PoSky: Warrior Test of Sky

Chest

Indicolite Breastplate




BiS

PoHate: a kiraikuei

Back

Shield of the Immaculate




BiS

Cloak of Flames
Option 2 (+36% Haste)

Cloak of Scales
Option 3 (Select Races Only)

PoHate: Lord of Ire (Classic-PoP), an eerie chest (LDoN+)






SolB: Lord Nagafen




PoHate: Innoruuk

Waist

Belt of the Four Winds




BiS (+41% Haste)

PoSky: Warrior Test of Think

Legs

Indicolite Greaves




BiS

PoHate: a kiraikuei

Feet

Indicolite Boots




BiS

PoHate: a kiraikuei

Ranged

Bow of the Underfoot




BiS

The Hole: a massive construct / a rock golem