Warriors in Gates of Discord will want to prioritize Heroic Stats. Heroic Dexterity for Proc Rate/Accuracy, and Heroic Stamina/Agility for Defense. After Heroic Stats we want to focus on AC, then HP. We also will pick up some +Attack along the way. Clickies are generally not included. For Clicky information check out the Warrior Clicky Page.  
Goals
Anger Mod: Vadd's Gauntlets of Elite Combat (Hands)
Improved Dodge III: Armguards of Insidious Corruption (Arms)
Parry/Block III: Forlorn Mantle of Shadows (Shoulders Option 2)
Cleave III (Critical Hit): Gem-Studded Band of Struggle (Fingers)
Ferocity (Double Attack): Jeweled Stud of Madness (Fero 2 + Heroic Dexterity) (Ear) / Alternative: Earring of Incessant Conflict (No Heroic Dexterity, but has Fero 3)
Haste: Shroud of the Legion 45% (Back)
Attack Cap: +250
You can swap items around and get more AC and HP if you want, but at a certain point you get diminishing return gains vs. mob difficulty at the cost of a lot of aggro and DPS so I prefer keeping at the worn ATK capped and to have Heroic Dexterity.
Off-hand threat weapons aren't ideal in Gates of Discord, so pick what you prefer. Death's Head Mace has +2 Heroic Dexterity and a Rune Proc. Jagged Onyx Staff procs an AC debuff. Bloodfrenzy has much worse ratio than the first two but is still not horrible due to its high proc rate.
Heroic Stat Goals:
Heroic Agility – 33 HAgi to be at 99% of Avoidance Cap (338 Agi Total)
Heroic Dexterity – 33 HDex to be at 99% of Increased Proc Rate Cap (338 Dex Total)
Heroic Stamina – 35 HStam to be at 100% of Mitigation Cap (340 Stam Total)
Below are the estimated stats you can expect. Out of era AA HP has already been adjusted for. This profile has no AA clickies (such as +HP/AC), so add that to the profile below if you have the clicky.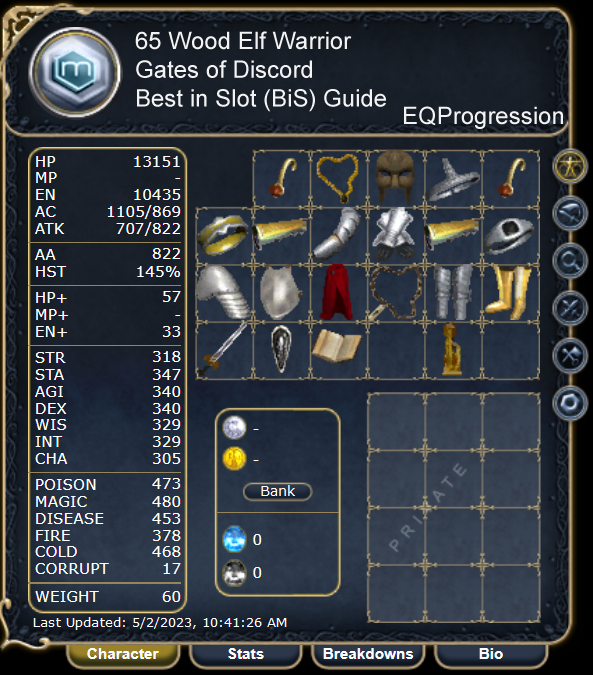 Slot
Item
Augment
Primary

Brutish Blade of Balance


Tacvi:

Zun`Muram Kvxe Pirik



Radiant Marble Sphere of Ire


South Ro LDoN: 1150 points



Off-Hand

Death's Head Mace


Tacvi: Pixtt Kretv Krakxt



Radiant Marble Sphere of Ire


South Ro LDoN: 1150 points



Off-Hand Opt. 2
Jagged Onyx Staff


Ikkinz Raid #2: Chambers of Glorification



Radiant Marble Sphere of Ire


South Ro LDoN: 1150 points



Off-Hand Alternate
Bloodfrenzy


Ssraeshza Temple: Vyzh`dra the Cursed



Marble Sphere of Ire


Everfrost LDoN: 1150 points



Shield
Aegis of Midnight


Tacvi: Pixtt Riel Tavas



Frosty Gem of Enhanced Protection


LDoN Raid: Frozen Nightmare



Ear 1
Soothing Earstone of Striated Clay


Inktu'ta the Unmasked Chapel



Blessed Shard


Yxtta: Primals



Ear 2
(Fero II + Heroic Dex)

Jeweled Stud of Madness


Inktu'ta the Unmasked Chapel



Ashen Claystone of Aegis


Kod'Taz: Various Named



Ear 2 Opt. 2
(Fero III)

Earring of Incessant Conflict


Inktu'ta the Unmasked Chapel



Ashen Claystone of Aegis


Kod'Taz: Various Named



Neck
Bloodied Ritual Trinket


Ikkinz Raid #4: Chambers of Destruction



Black Gemstone of Pain


BiC #14 Quest



Face
Stained Fur Mask


Txevu: Mastruq Champion Event



Scarred Token of Resistance


Yxtta: Mastered Destroyer



Head
Crown of the Forsaken


Txevu: Ikaav Nysf Lleiv



Opaque Sapphire of Bulwark


Kod'Taz Trash Drop



Ring 1
Divine Crystal Ring


Qvic: Cynosure Kvanjji



Ruby of Steadfastness


Txevu: Aneuk Nyrt Ymosa



Ring 2
Gem-Studded Band of Struggle


Txevu: Zun`Muram Tkarish Zyk



Focused Prism of Accuracy


LDoN Raid: The Curse Reborn



Wrist 1
Xxeric's Battleworn Bracer


Tacvi: Pixtt Xxeric Kex



Focus Shard of Enhanced Protection


LDoN Raid: The Curse Reborn



Wrist 2
Vadd's Bracer of Elite Combat


GoD Quest Armor



Scion Stone of Disruption


LDoN Raid: Struggles within the Progeny



Arms
Armguards of Insidious Corruption


Tacvi: Pixtt Riel Tavas



Guardian's Stone of Enhanced Protection


LDoN Raid: Struggles within the Progeny



Hands
Vadd's Gauntlets of Elite Combat


GoD Quest Armor



Experimental Gem of Enhanced Protection


LDoN Raid: Hidden Vale of Deceit



Shoulders
Opt 1
(H Stats)

Pauldron of Dark Auspices


Tacvi: Zun`Muram Kvxe Pirik



Glowing Stone of Precision


LDoN Raid: Ritualist of Hate



Shoulders Opt. 2 (Parry/Block III)

Forlorn Mantle of Shadows


Txevu: Mastruq Champion Event



Glowing Stone of Precision


LDoN Raid: Ritualist of Hate



Chest
Vadd's Chestplate of Elite Combat


GoD Quest Armor



Glinting Onyx of Might


Tacvi: Pixtt Xxeric Kex



Back
Shroud of the Legion


Tacvi: Zun`Muram Mordl Delt



Researcher's Exacting Ore


LDoN Raid: Folly of Miragul's Ambition



Waist
Assistant Researcher's Symbol


Discord Skin Samples Quest



Jagged Froststone of Enchantments


LDoN Raid: Folly of Miragul's Ambition



Legs
Greaves of the Tunat'Muram


Tacvi: Tunat`Muram Cuu Vauax



Shimmering Granite


Tacvi: Pixtt Xxeric Kex



Feet
Nightmarish Boots of Conflict


Tacvi: Zun`Muram Mordl Delt



Warden's Stone of Prowess


LDoN Raid: Prison Break



Ranged
Tome of New Beginnings


Tacvi Quest



Kelekdrix's Sandstone of Fortitude


Inktu`Ta, the Unmasked Chapel



Charm Opt. 1
Intricate Wooden Figurine


PoP Progression



Adventurer's Stone


LDoN Progression



Charm Opt. 2
Chiseled Jade Figurine


Taskmistress Krisz

Quest



Adventurer's Stone


LDoN Progression