Warriors in Omens of War will want to prioritize Heroic Stats. Heroic Dexterity for Proc Rate/Accuracy, and Heroic Stamina/Agility for Defense. After Heroic Stats we want to focus on AC, then HP. We also will pick up +Attack along the way. Clickies are generally not included. For Clicky information check out the Warrior Clicky Page.  
Mod Goals
Anger Mod – Warrior 2.0 Epic
Improved Dodge III – Earring of Mental Incursion
Parry/Block III – Choker of Imprisoned Visions
Cleave V (Critical Hit) – Golem Stone Face Guard
Ferocity V (Double Attack) – Gladiator's Plate Boots of War
Haste 45% –Gladiator's Plate Helm of War
Attack Cap – 250

Notable Clickies
Form of Defense III (24 AC) – Hanvar's Hoop
Form of Endurance III (240 HP) – Ring of the Beast
Chaotic Ward (20 AC and all Resists) – Necklace of the Steadfast Spirit
Ancient Power (10% Overhaste) – Symbol of the Overlord
Heroic Stat Goals:
Heroic Agility – 34+ HAgi to be at Avoidance Cap
Heroic Dexterity – 34+ HDex to be at Increased Proc Rate Cap
Heroic Stamina – 35+ HStam to be at Shielding Cap
Below are the estimated stats you can expect. Out of era AA HP has already been adjusted for. This character doesn't have any +stat AA clickies (Mana/HP/Regen/Resists, etc) clicked, so if you have any of those add them onto this profile to estimate your stats.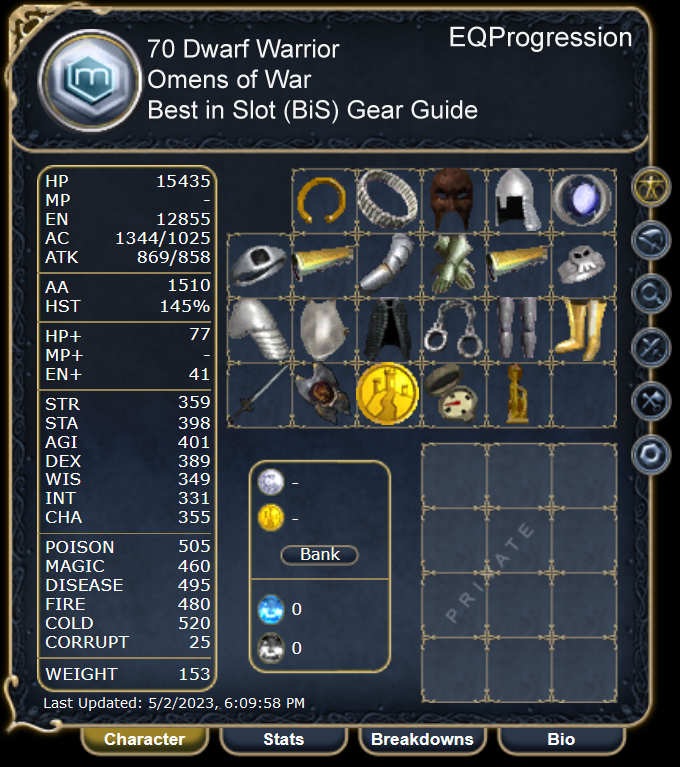 Slot
Item
Augment 
Primary Opt. 1

Kreljnok's Sword of Eternal Power




Warrior 2.0

LDoN Hate Augments




Everfrost/South Ro LDoN: 1150 Points

Primary Opt. 2


Brutish Blade of Balance




Tacvi: Zun`Muram Kvxe Pirik

Radiant Marble Sphere of Ire




South Ro LDoN: 1150 Points

Off-Hand Opt. 1

Notched Blade of Bloodletting




Anguish: Arch Magus Vangl

Radiant Marble Sphere of Ire




South Ro LDoN: 1150 Points

Off-Hand Opt. 2


Kreljnok's Sword of Eternal Power




Warrior 2.0

Radiant Marble Sphere of Ire




Everfrost/South Ro LDoN: 1150 Points

Shield

Shield of the Lightning Lord




Anguish: Arch Magus Vangl

Focus Shard of Enhanced Protection




LDoN: The Curse Reborn

Ear 1

Beaded Hoop of Demise




Anguish: Arch Magus Vangl

Black Gemstone of Pain




GoD: BiC Quest

Ear 2

Earring of Mental Incursion




OoW: Mastery of Hate

Ashen Claystone of Aegis




Kod'Taz: a few named

Neck

Choker of Imprisoned Visions




Anguish: Keldovan the Harrier

Blessed Shard




Yxtta: Primals

Face

Golem Stone Face Guard




Anguish: Ture

Opaque Sapphire of Bulwark




Kod'Taz: A few named

Head

Gladiator's Plate Helm of War




OoW T2 Armor

Ore of Stone Strength




RSS: Girplan Shardtender

Ring 1

Puja's Ring of Fire




RSS: Queen Pyrilonis

Scarred Token of Resistance




Yxtta: Mastered Destroyer

Ring 2

Gem-Studded Band of Struggle




Txevu: Zun'Muram Tkarish Zyk

Ground Murkglider Eyes




MPG: Blind Hunter Rekamu

Wrist 1

Gladiator's Plate Bracer of War




OoW T2 Armor

Flameshield Stone




RSS: Pyrilen Riftseeker

Wrist 2

Gladiator's Plate Bracer of War




OoW T2 Armor

Flameshield Stone




RSS: Pyrilen Riftseeker

Arms

Armplates of Endless Fortitude




OoW: Master of Endurance

Guardian's Stone of Enhanced Protection




LDoN: Struggles within the Progeny

Hands

Gladiator's Plate Gloves of War




OoW T2 Armor

Frosty Gem of Enhanced Protection




LDoN: Frozen Nightmare

Shoulders

Pauldrons of the Legion




Anguish: Keldovan the Harrier

Rune of Futile Resolutions




Anguish: Mini Bosses

Chest

Gladiator's Plate Chestguard of War




OoW T2 Armor

Flameshield Stone




RSS: Pyrilen Riftseeker

Back

Cloak of Regretful Transgression




Anguish: Warden Hanvar

Abhorrent Brimstone of Charring




Anguish: Mini Bosses

Waist

Chains of Anguish




Anguish: Mata Muram

Kyv Eye of Marksmanship




Anguish: Mini Bosses

Legs

Gladiator's Legguards of War




OoW T2 Armor

Flameshield Stone




RSS: Pyrilen Riftseeker

Feet

Gladiators Plate Boots of War




OoW T2 Armor

Experimental Gem of Enhanced Protection




LDoN: Hidden Vale of Deceit

Ranged

Symbol of the Overlord




Anguish: Mata Muram

Rune of Grim Portents




Anguish: Mini Bosses

Charm Opt. 1

Intricate Wooden Figurine




PoP Progression

Adventurer's Stone




LDoN Progression

Charm Opt. 2

Chiseled Jade Figurine




Riwwi Quest: Taskmistress Krisz

Adventurer's Stone




LDoN Progression