Warriors in PoP will want to prioritize Heroic Stats. Heroic Dexterity for Proc Rate/Accuracy, and Heroic Stamina/Agility for Defense. After Heroic Stats we want to focus on AC, then HP. We also will pick up some +Attack along the way. Clickies are generally not included. For Clicky information check out the Warrior Clicky Page.  
It is recommended to wear the Heroic Stamina Back with the Heroic Agility Ranged, or vice versa. This will allow you to cap both Heroic Stamina and Agility once LDoN augments are out, however once Gates of Discord is out this doesn't matter as much since additional Heroic Stat items become available.
Below are the estimated stats you can expect. Out of era AA HP has already been adjusted for. This character doesn't have any +stat AA clickies (Mana/HP/Regen/Resists, etc) clicked, so if you have any of those add them onto this profile to estimate your stats.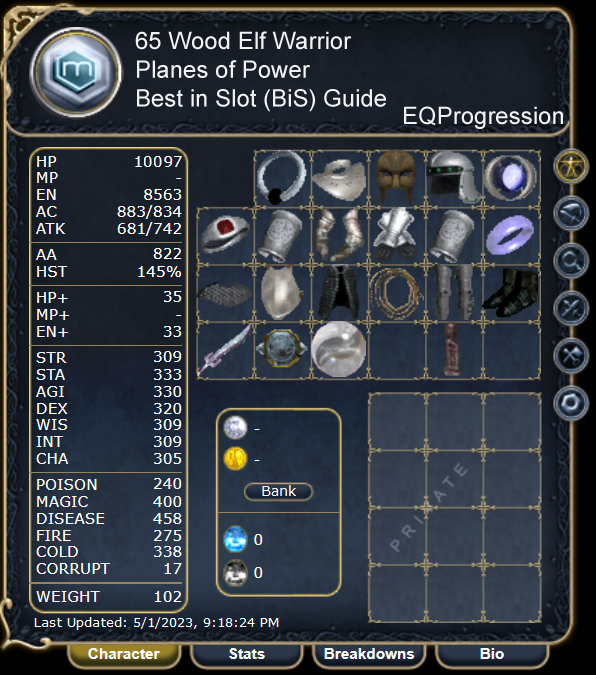 Slot
Item
Drop Location
Primary


Darkblade of the Warlord




BiS




PoTime: Rallos Zek

Secondary


Bloodfrenzy




BiS Aggro




Blasphemous Blade of the Exiled
Aggro Alternate


Edge of Eternity
Aggro/DPS Hybrid Option


Hammer of the Timeweaver
DPS Option


Shield of Strife
BiS Shield


Ssraeshza Temple: Vyzh`dra the Cursed






Ssraeshza Temple: Vyzh`dra the Exiled






PoTime: Saryrn






PoTime: Quarm




PoTime: Rallos Zek

2-Hander


Blade of War




Aggro Option

Vanazir, Dreamer's Despair
DPS/Aggro Option


PoTactics: Rallos Zek the Warlord





PoTime: Terris Thule



Ears


Silver Hoop of Speed




BiS (+5% Overhaste)

Earring of Xaoth Kor
BIS (+3 Heroic Dex)


PoTime: Quarm





PoTime: Phase 3 Golems



Neck

Necklace of Eternal Visions




BiS (+2 Heroic Stamina)

PoTime: Innoruuk

Face
Mask of Strategic Insight


BiS (+3 Heroic Dexterity)




PoTime: Tier 3 Golems

Head

Helm of Flowing Time




BiS (40% Haste)

PoTime: Vallon Zek

Fingers

Timestone Adorned Ring


BiS (+4 Heroic Agility)




Band of Prismatic Focus
BiS (+3 Heroic Dexterity)


PoTime: Cazic Thule





PoTime: Tallon Zek

Wrists

Earthen Bracer of Fortitude




BiS (+4 Heroic Stamina)




Bracer of Precision
BiS (+4 Heroic Stamina)


PoTime: Quarm





PoTime: Tallon Zek

Arms


Armguards of the Brute




BiS (Faerune)

PoTime: Terris Thule

Hands

Gloves of Airy Mists




BiS (+7 Heroic Agility)

Gauntlets of Disruption
Alternate (+4 Heroic Agility)

PoTime: Innoruuk





PoTime: Phase 2

Shoulders

Mantle of Deadly Precision




BiS (+3 Heroic Dexterity)

PoTime: Tallon Zek

Chest

Raex's Chestplate of Destruction




BiS

PoTime: Rallos Zek/Quarm (Timeless Breastplate Mold)

Back

Shroud of Eterninty




Option 1 (+4 Heroic Strength/Stamina)

Platinum Cloak of War
Option 2 (+3 Heroic Agility)

PoTime: Quarm





PoTime: Rallos Zek

Waist

Cord of Temporal Weavings




BiS (45% Haste/+7 Heroic Agility)

Girdle of Stability
Option 2 (+4 Heroic Stamina)

PoTime: Quarm





PoTime: Innoruuk

Legs

Greaves of Furious Might




BiS (+4 Heroic Stamina)




PoTime: Cazic Thule

Feet

Boots of Despair




BiS (+4 Heroic Stamina)

PoTime: Bertoxxulous

Ranged

Globe of Mystical Protection




Option 1 (+3 Heroic Agility)




Symbol of the Planemasters
Option 2 (+4 Heroic Stamina)


Bow of the Tempest
Bow (Optional): 220 Range


Shuriken of Eternity
Ton Po's Mystical Pouch (Optional): 250 Range


PoTime: Vallon Zek





PoTime: Saryrn



PoTime: Vallon Zek


PoTime: Rallos Zek

Charm

Intricate Wooden Figurine




BiS




PoP Progression