White Dragonscale Cloak – Quest Guide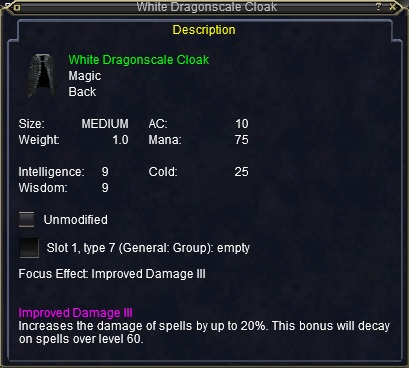 This quest starts in Rathe Mountains. However you don't actually need to go there until you are ready to turn the quest in. You'll need 3 items for the final turn-in:


Platinum Diamond Wedding Ring (Magical)


Black Sapphire Platinum Necklace (Magical)


White Dragon Hide
Give these 3 items into: Karam Dragonforge (+4100, +900) in Rathe Mountains to receive

White Dragonscale Cloak. Karam Dragonforge is in a hut.
You will also need to be at least indifferent faction to do the turn-in. If you aren't, before turning it in, use an invis potion or get an invis from someone once you have the items in his window. Then hit "Give" once he is indifferent. You can also use sneak if your class is able to. He is on Kaladim Merchant Faction.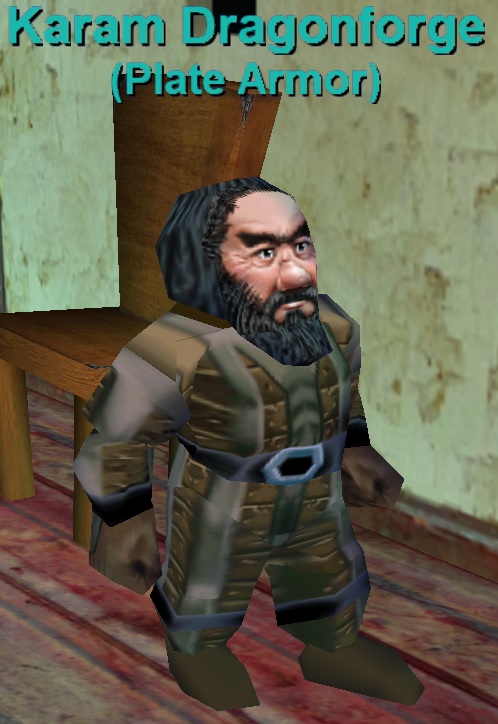 Details

Platinum Diamond Wedding Ring (Magical)
This item is crafted. Make the version that has stats on it. It is tradable.

Jewelcrafting – (Trivial 287, Jeweler's Kit)
 

Diamond (world drop)
 

Enchanted Platinum Bar (Summoned by Enchanters)
       

Platinum Bar – Sold at most Jewelcrafting vendors – Noirin Khalen, PoK, East Trade Building (-80, +335)


 Black Sapphire Platinum Necklace (Magical)
This item is crafted. Make the version that has stats on it. It is tradable.

Jewelcrafting  (Trivial 284, Jeweler's Kit)
 

Black Sapphire (world drop)
 

Enchanted Platinum Bar (Summoned by Enchanters)
     

Platinum Bar – Sold at most Jewelcrafting vendors – Noirin Khalen, PoK, East Trade Building (-80, +335)

 White Dragon Hide

Uncommon Drop from Lady Vox in Permafrost and Gorenaire in Dreadlands. No Trade