Wizards in Ruins of Kunark want to max Intellect and then get as much mana as possible. In some cases we may prefer HP and/or Stamina over Mana when the difference is large enough.
Below are approximate stats you can expect with the gear below. Your results will vary a bit depending on which items you choose, your race, and starting stats. Keep in mind this guide is built around you having all of the items (allowing your Intellect to be maxed). If you don't have them all then you may see more benefit stacking Intellect in the meantime.
If I missed a better item in any slot, feel free to let me know in Discord.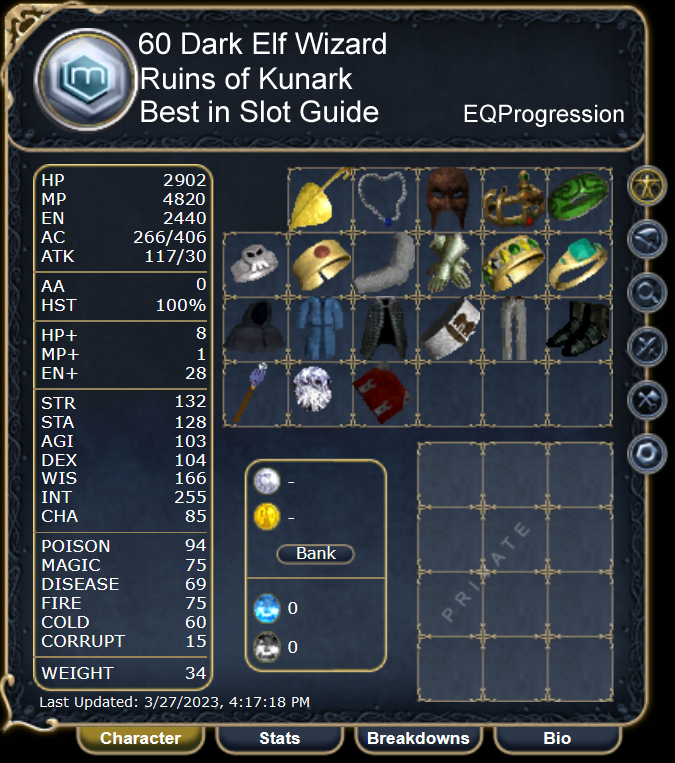 Slot
Item
Drop Location
Primary


Staff of the Four




BiS Mana

Fatesealer
Alternate

Wizard Epic 1.0





Veeshan's Peak: Hoshkar

Secondary


Left Eye of Xygoz




BiS Mana

Rokyl's Channelling Crystal
Balanced Option

Insignia Protector
AC Option

Arcane Orb of the Dark
AC Option (HUM ERU DEF FRG)


Veeshan's Peak: Xygoz





Nagafen's Lair (SolB): Magus Rokyl


Chardok: Queen Velazul Di`zok



Kunark Quest

Ears


Jade Meditation Hoop




BiS once over Intellect Cap

Yunnb's Earring
BiS

Chardok: Grand Herbalist Mak`ha





Veeshan's Peak: Phara Dar

Neck

Black Sapphire Platinum Necklace




BiS

Jewelcrafting

Face

Tattered Flesh Veil




BiS Mana




Enshrouded Veil
Balanced


Darkbrood Mask
BiS Dark Elf


Chardok: Underboss Myli`ki





Howling Stones: Embalming Fluid



PoHate: Innoruuk

Head

Crown of Rile




BiS




Veeshan's Peak: Phara Dar

Fingers

Regal Band of Bathezid


BiS

Di'Zok Signet of Service
BiS

Chardok Quest





Chardok Quest

Wrists

Bracelet of Distortion




BiS when max Intellect

Supple Scale Armband
BiS


Spirit Wracked Cord
HP Option

PoSky: Various mobs





Karnor's Castle: a Drolvarg warlord



Chardok Quest/Chardok: Grand Lorekeeper Kino Shai`din(Rare Drop)

Arms


Embroidered Black Sleeves




BiS

Lower Guk: a ghoul ritualist

Hands

Ancient Shissar Gauntlet




BiS

Karnor's Castle: Venril Sathir

Shoulders

Squallsurge Shawl




BiS

Kedge Keep: Undertow

Chest

Robe of the Azure Sky




BiS

Robe of Invocation
Alternate


Crimson Robe of Alendine
Alternate


Loam Encrusted Robe
Alternate


Robe of the Kedge
Alternate


Veeshan's Peak: Phara Dar





Veeshan's Peak: Xygoz



PoFear 1.0: a dracoliche



The Hole: Master Yael



Kedge Keep: Phinigel Autropos



Back

Shroud of Veeshan




BiS

Hierophant's Cloak
Alternate


White Dragonscale Cloak
Alternate


Veeshan's Peak: Phara Dar





Old Sebilis: Hierophant Prime Grekal



Lady Vox/Gorenaire (Quest)

Waist

Bone-Clasped Girdle




BiS

Brell's Girdle
Alternate

Girdle of Rapidity
Alternate

PoFear: a dracoliche





The Hole: Master Yael



Chardok: Sarnak Collective Auditor


Legs

Tanned Iksar Hide Leggings




BiS

Chardok: Grand Lorekeeper Kino Shai`din

Feet

Sarnak Hide Boots




BiS

Chardok: Watch Sergeant Riz`oul

Ranged

Iksar Hide Manual




Mana Option 1

Vile Sarnak Brew
Mana Option 2

Bronze Statue of Bathezid
Alternate Balanced


Chardok: Sarnak Collective Auditor





Chardok: an Alchemist`s Acolyte



Chardok: Captain Di`ouz