Wizards in Scars of Velious can easily hit the Intellect cap in BiS Gear. We will want to get as much +Mana Regen from items as possible, then we'll want to maximize Mana. HP and Stamina will be factored in, and may have priority over Mana when the difference is large enough.
Below are approximate stats you can expect with the gear below. Your results will vary a bit depending on which items you choose, your race, and starting stats. Keep in mind this guide is built around you having all of the items (allowing your Intellect to be maxed). If you don't have them all then you may see more benefit stacking Intellect in the meantime.
If I missed a better item in any slot, feel free to let me know in Discord.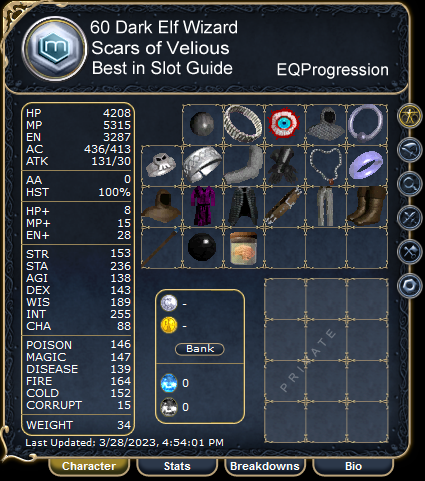 Slot
Item
Drop Location
Primary


Staff of the Silent Star




BiS

Temple of Veeshan: Lord Feshlak

Secondary


Essence of Nature




BiS (+5 Mana Regen)

Buckler of Insight
+1 Mana Regen

PoGrowth: Tunare





Temple of Veeshan: Halls of Testing Quest

Ears


Solist's Earring of Insight




BiS 1

Drake Tear
BiS 2


Yunnb's Earring
Alternate

Temple of Veeshan: Vulak`Aerr





Shyshrine: Kintaru of the Shrine



Veeshan's Peak: Phara Dar

Neck

Choker of the Wretched




BiS (+1 Mana Regen)

Surreptitious Brooch
HP/Mana Option 1

Amulet of the Dreadgazer
HP/Mana Option 2

Coldain 10th Ring Event Reward





Sleeper's Tomb: Ancient Dragons



Temple of Veeshan: Aaryonar

Face

Eye of Cazic-Thule




BiS (+1 Mana Regen)




Mask of the Silver Eyes
+1 Mana Regen


Akkirus' Mask of Warfare
Stat Alternate


PoFear 2.0: Cazic-Thule





Temple of Veeshan: Halls of Testing Quest



Temple of Veeshan: Vulak`Aer

Head

White Dragon Helm




BiS




Crown of Rile
Alternate


Circlet of the Fakinkan
Alternate


Lord Yelinak Quest





Veeshan's Peak 1.0: Phara Dar



Skyshrine Quest



Fingers

Ring of Destruction


BiS

Crystasia's Crystal Ring
BiS

Ring of Lightning
Alternate

Kael: Avatar of War





Temple of Veeshan: Vulak`Aerr



Kael: King Tormax

Wrists

Silver Charm of Tranquility




BiS

Camii's Bracer of Vigor
BiS


Temple of Veeshan: Halls of Testing Quest





Temple of Veeshan: Vulak`Aerr

Arms


Kelsiferous' Armband of Artistry




Option 1

Bladesoul's Spiritual Armguards
Option 2

Shining Metallic Sleeves
High Mana Option

Temple of Veeshan: Vulak`Aer





Sleepers Tomb Quest



Temple of Veeshan: Lord Kreizenn

Hands

Onyx Gauntlets




Option 1

Gauntlets of Dragon Slaying
Option 2

Shiny Metallic Gloves
Alternate

Temple of Veeshan: Lord Vyemm





King Tormax Quest



Temple of Veeshan: Lord Kreizenn

Shoulders

Wings of Duress




BiS Stats

Runed Coldain Prayer Shawl
+1 Mana Regen Option

Wurm Claw Pauldrons
Alternate HP/Mana

Shawl of Perception
Alternate HP/Mana

Sleeper's Tomb: Wyvern Fanatic





7th Shawl Quest



Temple of Veeshan: Dagarn the Destroyer



Temple of Veeshan: Lady Mirenilla

Chest

Sal`Varae's Robe of Darkness




BiS (+3 Mana Regen)

Robe of Inspiration
Alternate (+1 Mana Regen)

Wizard Class Robes
Alternate


Robe of the Azure Sky
Alternate

Temple of Veeshan: Vulak`Aer





PoFear 2.0: Cazic-Thule



Wizard Faction Quests/PoGrowth Named



Veeshan's Peak: Phara Dar

Back

Shroud of Veeshan




BiS




Hierophant's Cloak
Alternate


Veeshan's Peak: Phara Dar





Old Sebilis: Hierophant Prime Grekal

Waist

Girdle of Living Thorns




BiS (Melee Contested)

Belt of Dwarf Slaying
Alternate


Grotesque Girdle
Alternate


Bone-Clasped Girdle
Alternate


PoGrowth: Tunare





King Tormax Quest



PoFear 2.0: a dracoliche



PoFear: 2.0: Fright, Dread, Terror

Legs

Shining Metallic Pantaloons
BiS

Icicle Pantaloons
Alternate

Temple of Veeshan: Dagarn the Destroyer





Skyshrine Wizard Class Quest

Feet

White Dragonscale Boots




BiS (+2 Mana Regen)

Lord Yelinak Quest




Ranged

Brain of Cazic-Thule




BiS (+1 Mana Regen)




White Dragon Statue
+1 Mana Regen


PoFear 2.0: Cazic-Thule





Temple of Veeshan: Halls of Testing Quest