For Bards in Shadows of Luclin we'll want to prioritize AC and +Attack. We'll also pick up +8 Mana Regen in our Neck slot, and can optionally get more. We'll also need a haste item. Additionally, in our Ranged Slot we can choose between 2 different instrument types that we can wear while still dual wielding our main weapons.
Clickies are generally not included. For Bard Clicky information check out the Bard Clicky Guide.
Below are stats you can expect with the gear below. Your results will vary depending on which items you choose, your race, and starting stats.
This character doesn't have any +stat AA clickies (Mana/HP/Regen/Resists, etc) clicked, so if you have any of those add them onto this profile to estimate your stats.
If I missed a better item in any slot, feel free to let me know in Discord.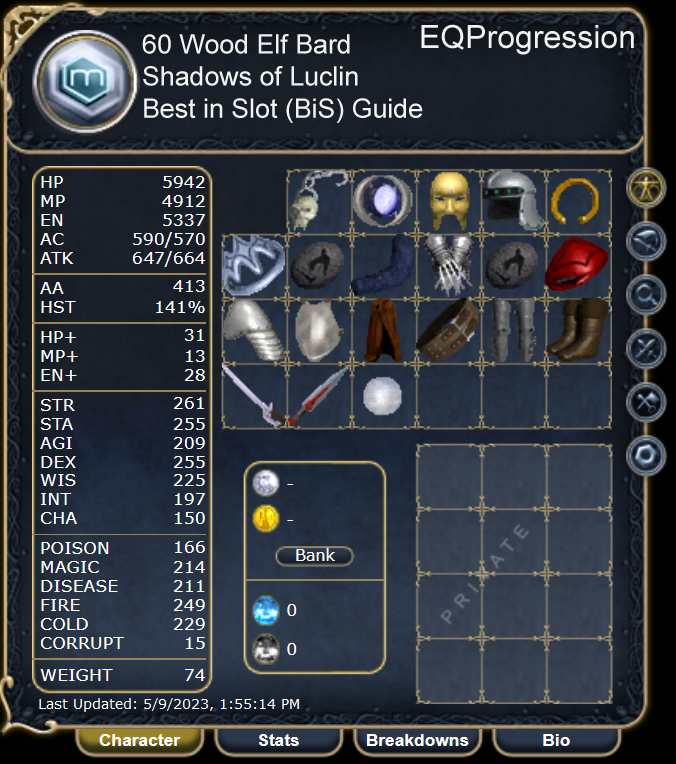 Slot
Item
Drop Location
Primary


Blazing Rapier




BiS (Ratio)

Ssraeshza Temple: Vyzh`dra the Exiled

Secondary


Acrylia Handled Broadsword




BiS (Ratio)

Singing Short Sword
All Instrument Off-Hand Option

Ssraeshza Temple: Emperor Ssraeshza






Bard 1.0 Epic

Instruments


Singing Short Sword




All Instruments: 8

Drums of the Beast
Percussion: 16 + Enduring Breath

Selo`s Drums of the March
Percussion: 14

Immaculate Shell Horn
Brass: 15

Denon's Horn of Disaster
Brass: 15

McVaxius` Horn of War
Brass: 14

Lyran's Mystical Lute
String: 15

Kelin`s Seven Stringed Lute
String: 14

Flute of the Sacred Glade
Wind: 15

Lyssa`s Darkwood Piccolo
Wind: 14

Bard 1.0 Epic





Siren's Grotto: shimmering sea spirit



Kunark Dragons / Lord Nagafen



Siren's Grotto: a neriad weaver/a siren enticer



Poky Bard Quest



Kunark Dragons / Lady Vox



Veeshan's Peak: Silverwing



PoHate: Maestro of Rancor



PoGrowth: Prince Thirneg



PoFear: Dread/Fright Terror

Ears


Earring of Eradication




BiS (+15 Attack)

Earring of Falling Stars
BiS (+10 Attack)

Vex Thal: Aten Ha Ra





Vex Thal: Thall Va Kelun

Neck

Talisman of Vah Kerrath




BiS (+8 Mana Regen/+20 Attack)

Vex Thal: Aten Ha Ra (Quest)

Face

Crimson Runed Mask




BiS (50 AC/+50 Attack)

Mask of Piety
Option 2: +4 Mana Regen Option

Vex Thal: Aten Ha Ra





Vex Thal: Kaas Thox Xi Aten Ha Ra (South Blob)

Head

Crown of the Twisted




Option 1 (+10 Attack)




Helmet of Shadow
Option 2


Great Helm of True Vision
Option 3


Acrylia Caverns: Khati Sha the Twisted






Vex Thal: Diabo Xi Va





Vex Thal: Arch Lich Rhag`Zadune

Fingers

Ring of Rage


Option 1 (+10 Attack)

Hoop of Chaos
Option 2 (+10 Attack)

Crystasia's Crystal Ring
Alternate

Ring of Destruction
Alternate

Azaliil's Ring of Analogies
Alternate

Starred Yttrium Ring
Alternate (+5 Mana Regen)

Vex Thal: Thall Va Xakra





Vex Thal: Thall Xundraux Diabo



Temple of Veeshan: Vulak`Aerr



Kael: Avatar of War



Ssraeshza Temple: Emperor Ssraeshza



Sanctus Seru: Lord Inquisitor Seru

Wrists

Cloudy Mark




Option 1 (+10 Attack: Not Lore – Can Wear 2)

Umbracite Bracer
Option 2 (+10 Attack: Not Lore – Can Wear 2)

Vex Thal: Va Xi Aten Ha Ra





Vex Thal: Thall Va Xakra

Arms

Umbral Vambraces




BiS (+15 Attack)

Vex Thal: Diabo Xi Va Temariel

Hands

Sanguine Gloves




BiS (+15 Attack)

Vex Thal: Thall Va Kelun

Shoulders

Pauldrons of Seething Darkness




BiS (+20 Attack)

Vex Thal: Va Xi Aten Ha Ra

Chest

Great Shadow Platemail




BiS (+50 Attack)

Heavy Yttrium Chestplate
Alternate (+15 Attack)

Vex Thal: Aten Ha Ra





Sanctus Seru: Lord Inquisitor Seru

Back

Cloak of Destruction




BiS (+15 Attack)




Vex Thal: Diabo Xi Xin

Waist

Belt of Mastery




BiS (+10 Attack)

Girdle of Focus
Alternate (+10 Attack)

Vex Thal: Kaas Thox Xi Aten Ha Ra (North Blob)





Vex Thal: Thall Va Kelun

Legs

Umbracite Plate Leggings




BiS (High AC/+10 Attack)




Vex Thal: Kaas Thox Xi Aten Ha Ra (North Blob)

Feet

Envenomed Moccasins




BiS (41% Haste)

Ssraeshza Temple: Emperor Ssraeshza

Ranged

Denon's Drums of Declivity




Option 1 (Percussion: 8 – Bard Only Option)




Horn of Shadows
Option 2 (Brass: 9 – Bard Only Option)


Orb of Satisfaction
Option 3


Crystallized Serpent Eye
Option 4


Orb of the Deep Sea
Alternate (AC Option/Enduring Breath)

Vex Thal: Thall Va Kelun





Vex Thal: Thall Xundraux Diabo



Vex Thal: Kaas Thox Xi Aten Ha Ra (South Blob)



Ssraeshza Temple: Vyzh`dra the Cursed



Temple of Veeshan: Lord Koi`Doken