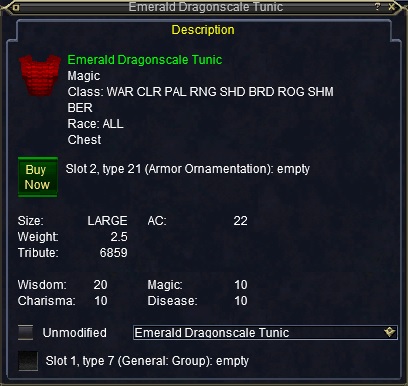 Overview
You'll need to obtain 3 items and turn them into Qarrgy Scallopgobbler in Cobalt Scar to receive

Emerald Dragonscale Breastplate. I did this with Indifferent Faction.

Emerald Dragon Scales


Ulthork Tusks


Fine Plate Breastplate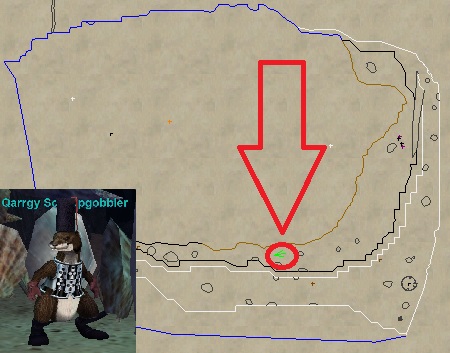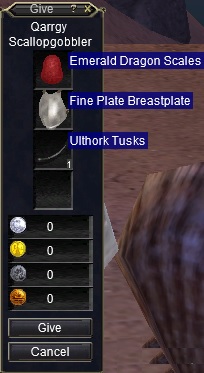 ---

Emerald Dragon Scales – Drops from Wuoshi in Cobalt Scar. Wuoshi Raid Guide >> HERE <<


Ulthork Tusks – Drops from "Ulthork" type mobs in Eastern Wastes. The northern area of the map is the most common place to farm these. Uncommon/Rare Drop.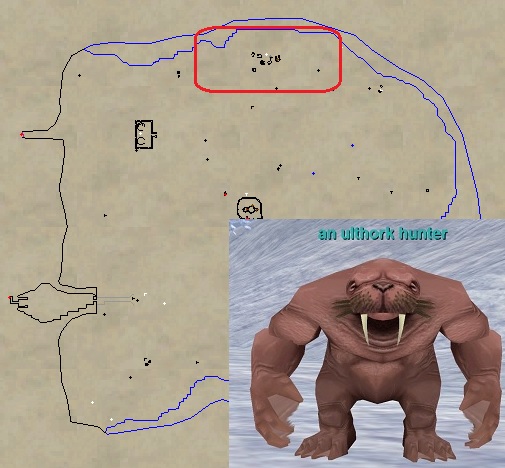 Fine Plate Breastplate – Crafted (Trivial 188, Blacksmithing, Forge)

1x Breastplate Mold
1x Smithy Hammer
1x Water Flask
1x Leather Padding
3x Medium Quality Folded Sheet Metal

1x Breastplate Mold – Bought (PoKnowledge/Bazaar/South Qeynos/East Freeport, various Blacksmithing Vendors)

1x Smithy Hammer – Bought (RETURNS ON COMBINE. Blacksmithing vendors in many towns. PoKnowledge/Thurgadin/Ak'Anon/Shadow Haven)
1x Water Flask – Bought (Various Vendors in Norrath, Baking and General Vendors are a good place to look)

1x Leather Padding – Crafted (Tailoring, Trivial 31, Sewing Kit)
 1x Silk Thread – Crafted (Tailoring, No-Fail, Sewing Kit)
      2x Spiderling Silk – Dropped – "spiderling type mobs" around norrath. These can be found in many starting noob zones. Commonlands, Feerrott, Field of Bone, North Ro, Misty Thicket to name a few.
1x Low Quality Item – Dropped (Choose any of the below). Bear/Cat/Wolf are quick to get in Commonlands
Low Quality Rockhopper Hide
Low Quality Bear Skin
Low Quality Cat Pelt
Low Quality Wolf Skin
Low Quality Rockhopper Hide
3x Medium Quality Folded Sheet Metal (Crafted, Blacksmithing, Trivial 36, Forge)
1x Block of Medium Quality Ore – Bought (PoKnowledge: Borion Ston/Borik Darkanvil, Bazaar: Gliblixl Rocktok/Sateal Deirosap, North Kaladim: Harnoff Splitrock, South Qeynos: Yakem Oreslinger, other various vendors)
1x Smithy Hammer – Bought (RETURNS ON COMBINE. Blacksmithing vendors in many towns. PoKnowledge/Thugadin/Ak'Anon/Shadow Haven)
1x Water Flask – Bought (Various Vendors in Norrath, Baking and General Vendors are a good place to look)