Spirit Wracked Cord Quest Guide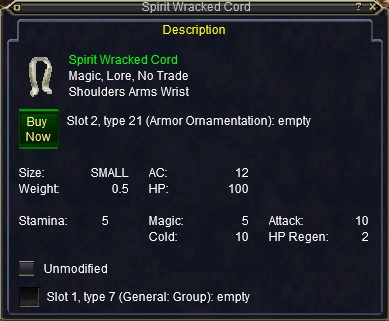 **This item very rarely drops off a rare named in the Chardok Library: Grand Lorekeeper Kino Shai`din. I have only seen it drop once in dozens of kills so the drop rate is likely very low**
Quest Overview
You will need hand in 3 items to Queen Velazul Di'Zok in Chardok to receive

Spirit Wracked Cord:

Spirit Wracked Urn – Drops off Drusella Sathir in Howling Stones. Drusella is in the East Wing of the zone. Approx 24 hour respawn. Uncommon Drop. She can be 1 grouped.


Undead Dragon Sinew – Drops off Trakanon (common, but not guaranteed) or Juggernaunts (rare) in Old Sebilis. Trakanon is approx 3 day respawn and requires a raid. Juggernaunts can be grouped.

Regal Band of Bethazid – Quested (See Quest: HERE)

You will also need to be Ally with Queen Velazul Di'Zok (Brood of Di'Zok faction). If you have done the

Regal Band of Bethazid quest then you should already have this.