Raid Request NPC: Lieutenant Ekiltu Verlor (Norrath's Keepers)/Captain Aleeth Zyrv (Dark Reign)
Raid Size: 6-24: Can be requested with offline characters in group
Faction Requirement: Amiable + Tier 2 Tasks complete
Make your way to the second most northern room in the zone. The instance will then lock so you cannot add any more players. Here you'll find 4 mobs: Emoush the Destroyer, Mystic Braggle, Mystic Shiflor, and Mystic Griknok. The mystics are level 70 and Emoush the Destroyer is level 65.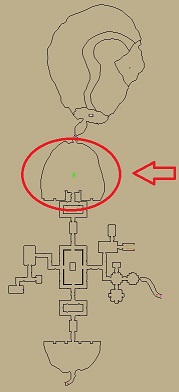 Emoush the Destroyer is initially unattackable. In order to attack him you'll need to kill all 3x Mystics. However, instead of dying they will instead turn into unconsious mystic and lay on the ground. The mystics will resurrect all at once every few minutes (the interval seems to vary by a minute or two,  might be based on something). You'll need to kill them again in order to keep attacking Emoush the Destroyer.

Your best bet will be to kill all 3x Mystics at the same time so you can maximize the amount of time you spend on Emoush the Destroyer. 
Each time the 3x Mystics wake up Emoush the Destroyer's max HP will go up. He will also regenerate HP while the Mystics are up. It seems his HP starts at around 300K-400K and goes up from there. You'll see this emote when he powers up:

To give a rough estimate of his HP gain, I let his power increase 6 times over a period of 11 minutes while testing and had to do 900K damage to kill him, but it's unlikely to get that high for most groups.
Once Emoush the Destroyer dies the raid is won. Loot

Glowing Stone Fragment from his corpse if needed for progression. You'll also receive

Dark Reign Token and a few Crystals

Mystics
– 92K HP
– Hit 900+ (35 Heroic Stamina)
– Slowable
 Emoush the Destroyer
– Starts at 300K – 400K HP (estimate), scaling up the more times the Mystics resurrect.
– Hits 1100+ (35 Heroic Stamina)
– Casts Rumbling Stone (PBAE, 1000 DD + 1 sec stun, -350 Prismatic Based, 1 minute cooldown)
– Resists seem high. May be weakest to Cold.
– Cold Based Slow would be useful if available, but not required